In a similar fashion to SEGA, Namco has a rather odd habit of keeping plenty of its franchises on the down low while their popular ones take the glory and then some. Some would live on through Namco Museum releases, while others simply aren't garnering the public eye's attention. The Mr. Driller series has often been victim of this for some reason. Then again, it must have made enough money to ever spawn sequels to begin with, right?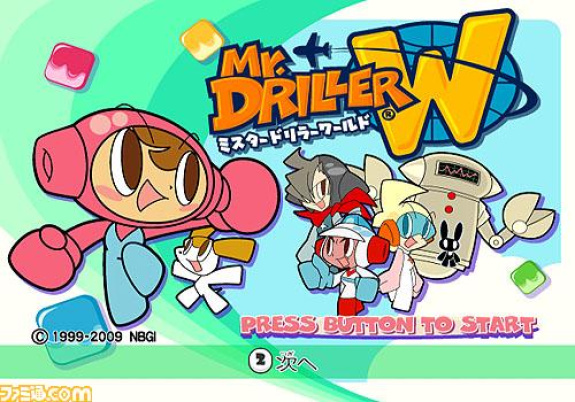 The original game was released for arcades in 1999. It eventually got ported to the Playstation, Dreamcast, and Game Boy Color (Sorry, Nintendo 64!). The character onscreen has to do one basic task: Drill. Drill as deep as possible if there isn't an end. How could this possibly be fun? Well, Mr. Driller cleverly mixes the drilling mechanic with puzzle-esque blocks that can be manipulated in ways one would expect from a game of that genre. So along with drilling through the blocks, you have to take careful consideration of your surroundings.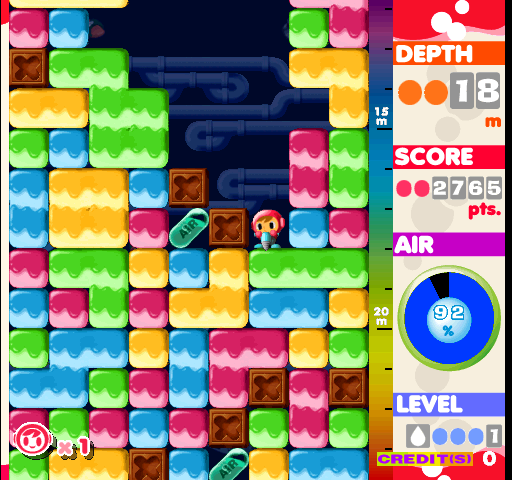 There are a few different types of blocks. We've got the multicolored ones that disappear when more than three are mixed together, ones that are tough to break through but can also disappear when mixed like regular blocks, and crystal ones that hardly last at all. Have any of them fall on top of the protagonist and a life is instantly lost. So as you dig deeper into the blockades, you have to make sure what's above doesn't come crashing down onto you. Evasive maneuvers and predictions may have to be made if you want to survive.
Did I forget to mention there's technically a timer? That's right! There's only so much air your character could breathe! The air is constantly decreasing, and the only way to add to it is by collecting capsules buried within the ginormous blockages. So along with examining the blocks, you seriously have to act fast if you want to keep on going. This can automatically make the experience rather intense. There are often times where I would aggressively dig down only to suddenly have something plop onto me because I rushed my calculations. It's all a combined management of speed and visual analysis.
So why is this series called Mr. Driller? Beats the crap out of me! You won't be playing as a dude named "Mr. Driller". The game instead stars this adorable little digger boy named Susumu. He is probably one of the least masculine male protagonists ever (what with his feminine voice and pink-blue outfit), yet I can't help but dig adore his cutesy character design! Unfortunately for him, a lot of the time anybody even knows this game, he will suffer what some may dub "the Metroid effect" and be called Mr. Driller instead of his real name. This is only made more confusing by the inclusion of Dig Dug as a character in later games; he gets renamed "Taizo Hori"!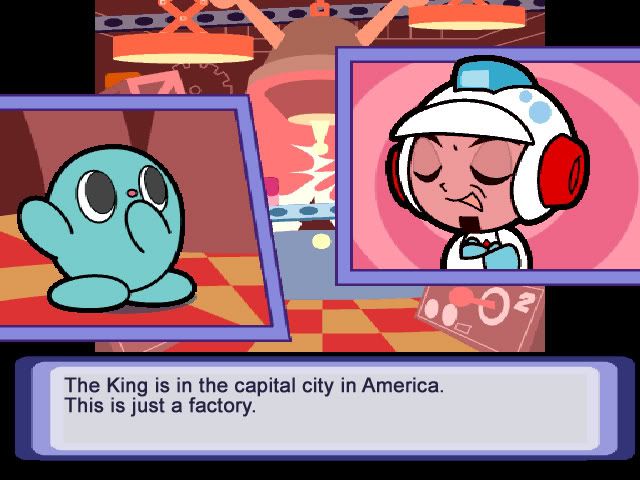 As the series went on, more characters would be introduced to spice things up a bit. You'd have a friend/rival named Anna, a genius talking dog named Puchi, and formerly married to Taizo is Toby Masuyo from Baraduke (a Japan-only scrolling shooter title) of all games. For a puzzle game series, Mr. Driller has quite the established character traits and depths that wouldn't typically be seen in gameplay! There's a whole family of Horis starting with Susumu, and each have significantly different ideals from one another. Then there's the fact that blocks are cropping up due to underground beings, and other supporting characters can even include a rabbit-like creature from outer space. Like…Wow. Since Namco's recently been talking up plans for a Klonoa animated film, I would actually really like to see a similar treatment apply to Mr. Driller. I know I for one would love to write a script.
Anyway, the subsequent games in the series were structured similarly to that of other puzzle game series. By that, I mean the gameplay remains largely the same throughout the series's run. The characters provide very subtle differences in mechanics, but the gameplay and premise haven't changed a bit. There could be modes that would act like they're changing things up, but are really just making a change in how fast progress through the blockades must be made. Boulders add to the formula by not being able to mix with any blocks or each other, and maybe layouts could find subtly distinct ways to enact upon the scenery, but that's about as far as things could go. Or at least that's the case for America.
If you live in Japan, you're probably treated to at least a few more Mr. Driller games than us, such as Mr. Driller G for the Playstation and Mr. Driller A for the Game Boy Advance. Perhaps the most notable title is Mr. Driller: Drill Land for the Nintendo Gamecube. Why do I say that? Because it has modes that actually appear to affect gameplay! There's a puzzle RPG mode based on fellow Namco title The Tower of Druaga, as well as a ghost hunting mode, for example. Even the internationally released Mr. Driller: Drill Spirits for Nintendo DS has an interesting game mode where you must try drilling the least while still attempting to reach the bottom. The kicker? It was cut out of the American release. What is it with video games and unnecessarily chopping off game content for release in another region? I've never been able to understand why developers or executives come to those conclusions at all…
Either way, I do recommend playing at least one installment in the franchise. I'm not entirely sure if it's worth owning several games in the series, but a title for a TV console and a title for a handheld could be the definitive way to go for the Mr. Driller experience. The gameplay itself is an addictive time while your gaming session with it lasts! It's just a shame Namco doesn't take a bigger advantage of the series this day and age.