Yes, I'm going to be talking about Pac-Man again! Kind of. I'm really going to talk about a whole slew of franchises. Namco Museum is a collection of games from Namco's past. In fact, it's an entire series by itself. From the original Playstation to the Xbox 360 and Wii, this series has been around and it has brought plenty of Namco arcade classics to whatever home console each installment lands on. For this Retro Flashback, I'm going to discuss every single entry in the series and see if they've held up over the years.
Let's start with the Playstation titles. From the initial release in 1996 to the final one which came out just one year later, that's a whopping five volumes! It seems to be planned out, though. If you were to obtain all of the volumes in their cases, they would spell out Namco's logo. It's a nice touch even if this probably meant a ton of money was spent buying the titles in the process.
Volume 1 contains some of the popular hits like Pac-Man, Galaga, both versions of Rally-X, and to a lesser extent Pole Position. There were also the rather curious inclusions of Toy Pop and Bosconian.
Volume 2 goes into somewhat more obscure territory by hosting Super Pac-Man, Mappy, Xevious, Gaplus (which some may know as Galaga 3), Grobda, and Dragon Buster.
Volume 3 heads back into more familiar places with Ms. Pac-Man, Galaxian, Dig Dug, and Pole Position II, but also features The Tower of Druaga and Phozon.
Volume 4 dives straight back into near-unknown aspects with Pac-Land, The Return of Ishtar, Genji and the Heike Clans, Assault (including its Plus counterpart), and Ordyne.
Lastly (for now, anyway), Volume 5 features The Legend of Valkyrie, Pac-Mania, Dragon Spirit, Metro-Cross, and Baraduke.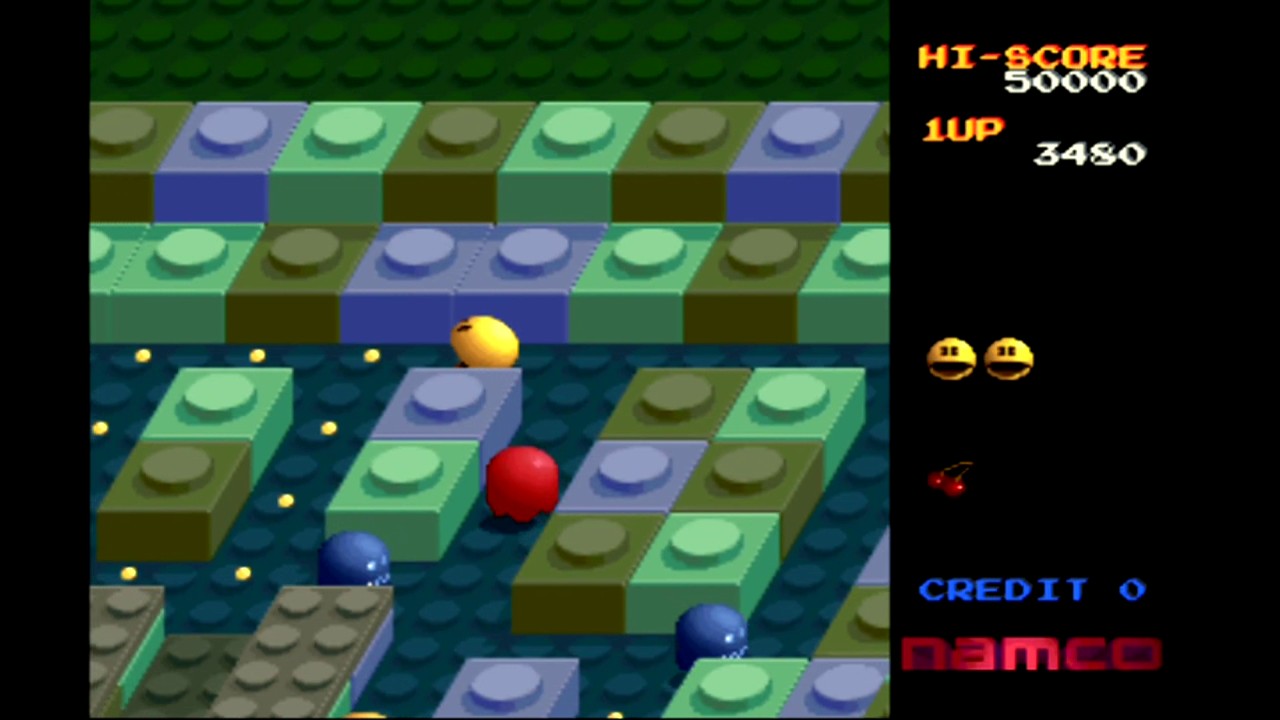 I don't think there's been anything like this before the Playstation arrived into the market. The closest thing Namco has done was include Pac-Man and Ms. Pac-Man (or "Pac. Jr" if you're a SEGA Genesis owner) in the 1994 title, Pac-Man 2: The New Adventures. Williams Arcade's Greatest Hits also managed to debut just months prior to the first Namco Museum volume, but that's all I could think of. Even then, I don't think Williams (no offense to them) had properties that pack as much of a punch as Namco's roster. I know I'd much rather play Galaga than Defender.
To be fair, Williams's compilation did feature arcade-perfect emulation. I suppose it paved the way for Namco's own ventures in capturing their own arcade lineups as genuinely as possible for the Playstation. That certainly was unheard of prior to the fifth generation of consoles. Many arcade ports that have been released over the past console generations would be seen as arcade-perfect when trying to be faithful to their original cabinets, but even then, the console hardware may limit at least one aspect about the games in question. Here we have a collection of arcade hits and they appear just as they would in an actual arcade.
Just as interesting as the arcade games themselves is the presentation. In this day and age, people are used to navigating menus to get to the games they want to play in compilations. However, each game in the Namco Museum pentalogy has a first-person perspective that treats it sort of like an actual museum. When you go through a door leading to a game, you find yourself in a room that's decorated to be themed (either vaguely or directly) after said game. One of my favorite rooms is the one for Super Pac-Man; there's this amusing bar-stage setup with a ghost crowd anticipating an act.
The rooms aren't entirely for show, though. There's actually a bunch of scanned promotional materials and trivia for each game in the series. But you know what would be freaking awesome? Imagine if there were modern recreations for every room in these Namco Museum titles that could be viewed and interacted with through a VR headset! I mean, the rooms were practically MADE for this concept. Can somebody get on this?
For all that I have to remark about these volumes, however, there are some things that have bothered me in hindsight. The first thing that comes to mind is the chronology of Namco's releases that could be viewed in-game. There is a plethora of games in a very long list, yet Namco only ever put like a handful of them into these collections. Where's Wonder Momo? Where the heck are Quester and Hopping Mappy? I want to see these. Well, Namco did bring a few back in Namco Museum Encore, a Japan-only sixth release for Playstation. Pictured above, it was a release of seven games that we Americans never got to play on the previous volumes. In fact, Volume 2's Japanese release includes two games we also don't get: Bomb Bee and Cutie-Q, the latter of which apparently is left dummied out in the disc's code anyway. What is the reason behind these strange decisions to prevent certain regions from playing certain games?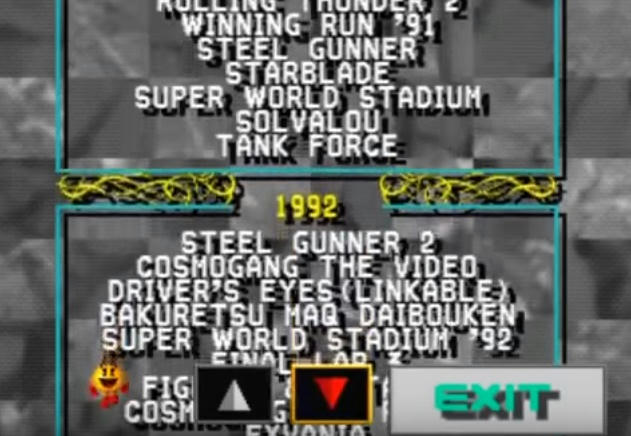 Actually, forget Americans. Nintendo 64 and Dreamcast owners in general have been getting the shaft here. All six of those volumes were strictly on the Playstation. Did Nintendo and SEGA fans get anything out of this? One single collection. We shall refer to this by its 64 release's name, Namco Museum 64. This release contained the most popular stuff: Pac-Man, Ms. Pac-Man, Galaga, Galaxian, Dig Dug, and Pole Position. There was eventually a Game Boy Advance release that contained these games, except for Pac-Man. The handheld did as great of a job at preserving the arcade quality as the home consoles, albeit the screen does scroll for a few of the games (Unless you choose the Full Screen option, which provides a hilarious example of screen crunching).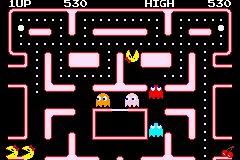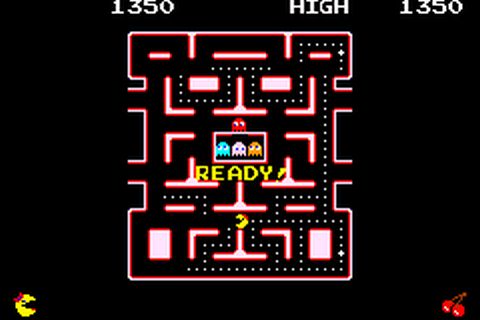 For some reason, the GBA version was identical to what we saw on the Wii U's Virtual Console while Namco Museum 64 is left without a re-release. You know what's notably missing from all these versions, though? The freaking "museum" part of Namco Museum! None of the special decorated rooms have returned, nor are there any fun facts or promo materials to look at. It's just a menu with games to play from. I guess that part of the name could still apply to the age of the games being represented, but it's a shame this feature isn't carried on from the Playstation era. Thankfully, the sixth generation releases of Namco Museums at least make an attempt to include some more interesting games.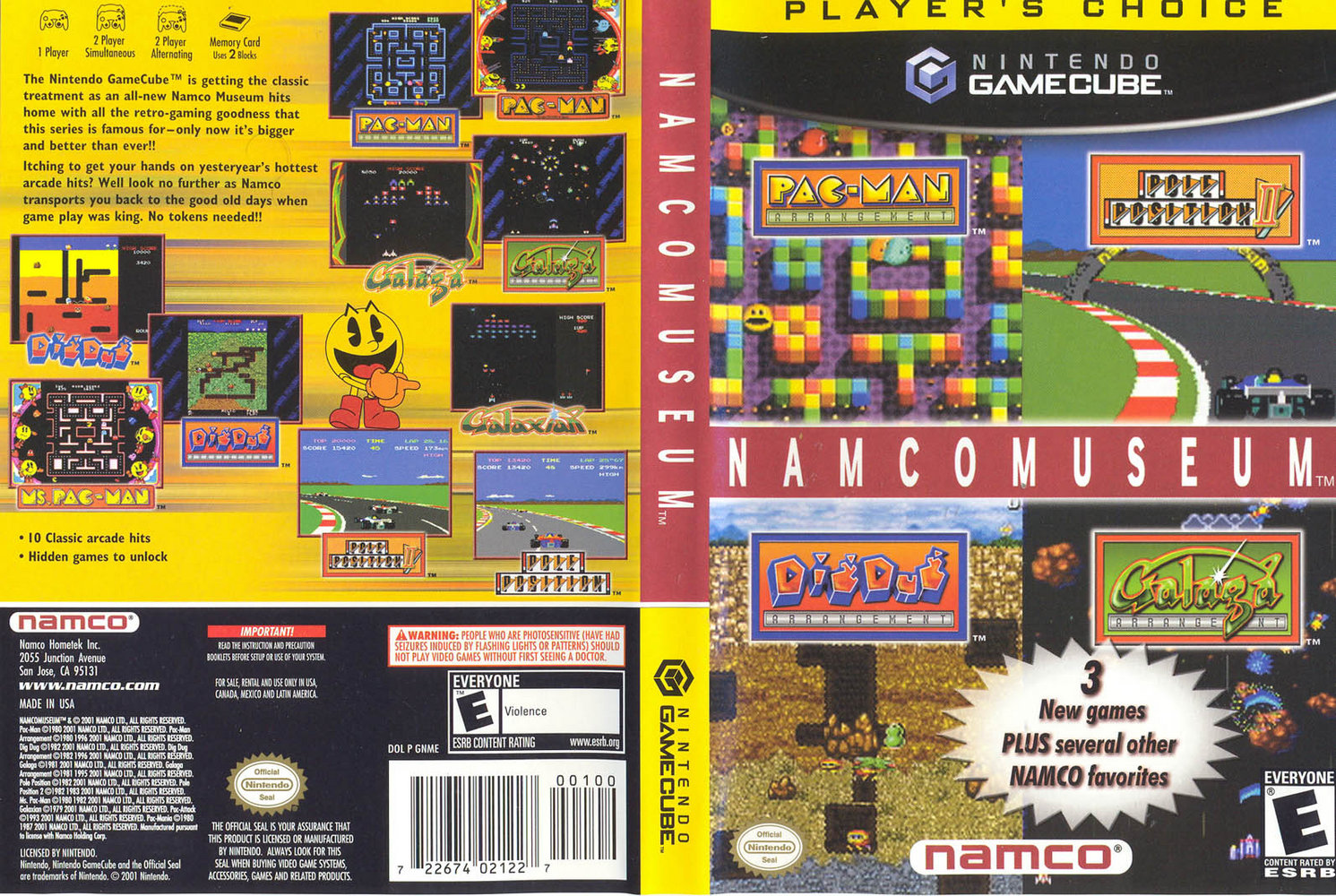 Released on the Nintendo Gamecube, Xbox, and Playstation 2, Namco Museum contains all of the games from the non-Playstation releases plus six more titles (with Pac-Mania and Super NES/SEGA Genesis puzzler Pac-Attack being unlockables). Despite Pole Position II being featured on the box, it could only be overshadowed by the three other games that share the cover space: Pac-Man Arrangement, Dig Dug Arrangement, and Galaga Arrangement. These games are the de-facto reason to own the disc. Originally from a couple relatively obscure compilation cabinets, the Arrangement games are spruced-up sequels to their respective classics that are played in a level-based format (therefore they can be beaten) and could be played by two players simultaneously. They are very fun, and this version of Namco Museum is the only one to feature those games.
Well, okay. Pac-Man Collection on the Game Boy Advance does at least have Pac-Man Arrangement (without co-op). This compilation also features Pac-Man, Pac-Mania, and Pac-Attack. There's one game less than Namco Museum on the GBA, but frankly I would rather play these games than what's featured there. It's not just because I'm a Pac-Man nut, but also that I can play through most of the games to the end. The most enjoyment I could get from the arcade games would come from playing them in actual arcades since we're all competing for highscores, but that's just me.
The sixth console generation surprisingly got another Namco Museum to celebrate the company's 50th anniversary in 2005. It didn't feature the Arrangement games, but it did include some other vacant titles. It contained the following: Pac-Man, Ms. Pac-Man, Galaga, Galaxian, Pole Position, Pole Position II, Rolling Thunder, Dragon Spirit, Dig Dug, Rally-X, Bosconian, Sky Kid, Xevious, Mappy, and Pac-Mania and Galaga '88 as unlockables. I think this may be the best one in terms of having the most diverse lineup under one home console disc even if I still wished Namco made use of its massive library shown in their chronology. And while it still lacks a museum portion, it does at least feature a cool menu that emulates the idea of being in an arcade. It even plays some songs from the 80s in the background, like "Talking In Your Sleep" and "Working for the Weekend". Not bad for a menu!
As for the GBA version of this collection, it is pitiful. It only contains five games like its GBA predecessor, but its selection renders this almost entirely pointless from the get-go. Unless you want to play Rally-X on your Game Boy Advance, you have no reason to pick this up. The previous Namco Museum features three of the games featured here, and Pac-Man Collection has a version of Pac-Man already. Interestingly, the PSP received a much more drastic treatment with a Namco Museum of its own.
Dubbed Namco Museum Battle Collection, this one features Pac-Man, Galaxian, King & Balloon, both Rally-X versions, Galaga, Bosconian, Ms. Pac-Man, Dig Dug, Xevious, Mappy, The Tower of Druaga, Grobda, Dragon Buster, Motos, Dig Dug II, Rolling Thunder, and if you live in Japan, Dragon Spirit. Its lineup can rival that of 50th Anniversary, but it does add its own unique Arrangement games into the mix. Not related to the ones featured in the first sixth-gen Namco Museum, these were built from the ground-up (but still followed a level-based structure). I do enjoy playing these Pac-Man and Galaga Arrangements, but I do prefer the older ones. Also, Dig Dug Arrangement and Rally-X Arrangement sucked.
Namco Musuem DS is a bit more standard, but does have its own merits. It has Pac-Man, Xevious, Super Xevious, Galaga, The Tower of Druaga, Dig Dug II, Mappy, and PAC MAN VS. For those that don't know of this last game, it's a title for the Nintendo Gamecube that is essentially a multiplayer party take on the Pac-Man formula. One player plays as Pac himself, and the others play as the ghosts; the ghost that touches Pac-Man gets to be him in the next round, while Pac has to try and clear the maze. Of course, whoever gets the highest score wins. It's an insanely fun title when four people play it, but the original game required a GBA and a link cable connecting it to the Gamecube. Not an easily accessible setup for those lacking the peripherals. Thanks to the Nintendo DS's wireless connectivity, however, it's way easier to set up a session. Unfortunately, for some reason, this DS version lacks the announcer. I wouldn't have minded much if it weren't for the fact that the announcer was Mario! Oh well. At least promo materials for the arcade games can be viewed.
The Wii's iteration of the series, labeled Namco Museum Remix, went back to Battle Collection's idea of featuring new games alongside old ones. Cutie-Q finally appears in one of these things outside Japan, and alongside it is Dig Dug, Galaxian, Gaplus, Mappy, Pac-Mania, Super Pac-Man, Xevious, and apparently Pac & Pal, a game that hasn't ever even been released internationally until its inclusion in this compilation. It's certainly an interesting curiosity in its own right.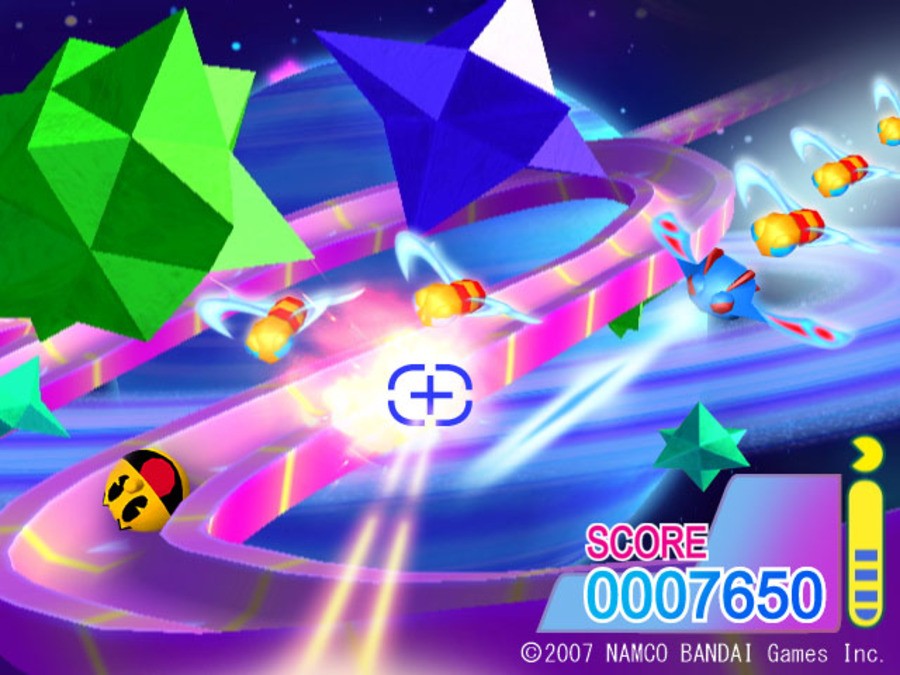 As for the new games, instead of "Arrangement" they go under the "Remix" name. There's Pac 'n Roll Remix (a Wii version of a DS title released a couple years prior), Galaga Remix, Gator Panic Remix, Rally-X Remix, and…Pac-Motos. Galaga Remix packs a shooting gallery style of gameplay, while Rally-X Remix is an easier take on the arcade game with levels that could be breezed through in under an hour by an experienced player. Of these games, I find myself checking out Pac 'n Roll Remix the most. If there's one thing I feel crippled the original DS game, it was the control scheme. The stylus was used for everything, making executing a dash attack to be really awkward and clumsy. The Wii version solves this issue by having the Nunchuck's analog stick for movement and a shake of the Wii Remote for the dash attack. It's much simpler and the game is a lot more fun this way. This port also completely ditches the story which in my opinion is another improvement.
Perhaps the last "original" Namco Museum installment would be Namco Museum Virtual Arcade for the Xbox 360. It contains the PSP Arrangement games except for Rally-X, and it also features Xbox Live Arcade games like the acclaimed Galaga Legions and Pac-Man: Championship Edition as well as the panned Mr. Driller Online. The arcade games are Baraduke, Bosconian, Pac-Man, Pac-Mania, Dig Dug, Galaga, Ms. Pac-Man, Xevious, both Rally-X versions, Motos, Pac & Pal, Pole Positions 1 & 2, Rolling Thunder, Sky Kid, Sky Kid Deluxe, Super Pac-Man, The Tower of Druaga, Galaxian, Galaga '88, Metro-Cross, Grobda, King & Balloon, Dragon Buster, Dragon Spirit, and Dig Dug II.
Oddly, the Playstation 3 was the console that got the shaft this time. It got Namco Museum Essentials, which was just six games. They are Pac-Man, Xevious, Galaga, Dig Dug, Dragon Spirit, and a brand new title named Xevious Ressurection. I've yet to play that one, so I have nothing to say on it.
As for the Wii? It got a second Namco Museum collection, but it's really just a rehash of Namco Museum Remix with some more games tacked onto it. Named Namco Museum Megamix, it included one new Remix game: Grobda Remix. It also featured arcade additions like the original Pac-Man, Galaga, and New Rally-X (which were strangely absent in the previous release), but nothing else too noteworthy other than a couple games like King & Balloon.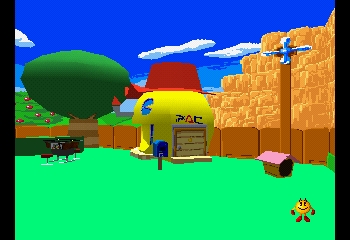 That actually wraps up the entire series. Oddly, Namco never made a new installment in the Namco Museum series after this one. It's been a whopping six years without an entry at the time of this writing. But hey, what is released of the series as of now is plentiful. They've gone to solid lengths to make sure a lot of their arcade hits would be playable on as many gaming systems as possible. However, it does still feel like they underutilized their library. If the chronology is of indication, there are many more Namco games we don't know about this day and age that practically beg for a re-release in one of these things. The problem with having multiple Namco Museums is that along the way of obtaining a few games you never had before, you'd end up also having another version of the ones that appear in nearly every single entry. It can be hard to approach certain ones as a result, with the GBA version of Namco Museum: 50th Anniversary driving that point home. Don't get me wrong; I do love these collections for what they are, especially when they contain games like the Arrangements.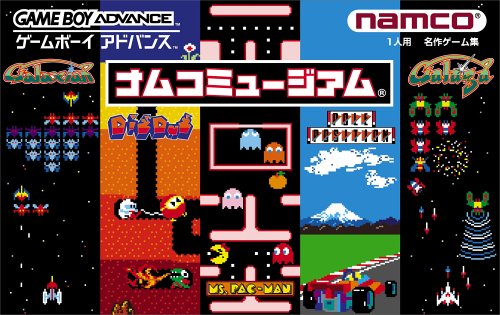 But should a new Namco Museum happen, I would love for it to contain an enormous amount of games. Maybe even about fifty or beyond that. A lot of them can be obscure titles and each game would follow up on the novelty of the original Playstation series. By that I mean: Have those awesomely decorated virtual rooms inviting you to play these games. Have special trivia bits and promotional materials ready for viewing. And most idealistic of all – Have those rooms viewable via a VR headset!