Ah, old dusty electronic LCD games. They're primitive, customers had to buy individual devices, the sprites on each screen are just static images lighting up accordingly, and they are all no match for the likes of the original Game Boy. But you know what? As the obsessive retro gamer that I am, they hold a special place in my heart. There's something pleasantly nostalgic about the beeps and boops these cute little games make as they try so hard to emulate fuller-fledged video games. They're a historical curiosity in the purest fashion.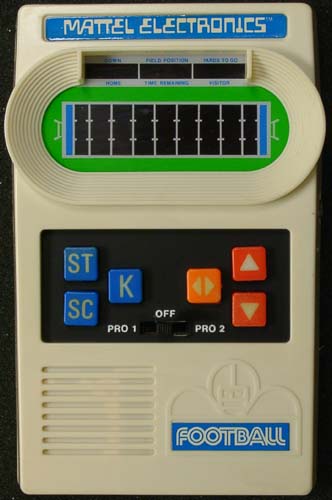 LCD games are commonplace and made by all sorts of brands throughout the years. They debuted some decades ago as a means to provide portable video games. You know, since it wasn't until 1989 for the Game Boy to snatch the market on that front. Until then, companies such as Mattel, Coleco, and many others at the time produced their own libraries of LCDs. You might be more familiar with the ones Nintendo released in the 1980s. Around that same time, LCD gaming moved away from emulating things like sports and starting trying to be more like either their own thing or capturing essences of then-popular video games.
The Big N calls each one of theirs a "Game & Watch". Being that these are Nintendo's products, it's safe to assume that they have held up stronger than their competition. There are not only a lot of different original (and sometimes involve Disney or Peanuts IPs!) games produced in the lineup, but the models can range from being the standard widescreen format you see above to having colored screens, mini controllers attached for multiplayer purposes, or even two screens (This in particular inspired the Nintendo DS's look).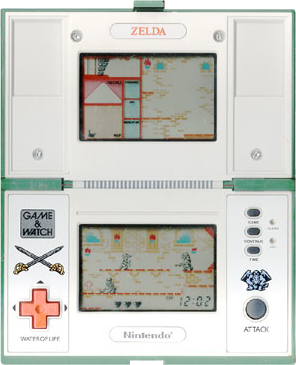 Nintendo also released Game & Watch takes on some of their arcade titles; what makes these special is that while they embody elements of the "real" games, these handheld versions hold their own by focusing on how the fun could translate to a Game & Watch. Donkey Kong Jr., for example, has a single basic platforming level, but how the enemies and Junior himself can move makes for the game to be frantic and strategic. Sometimes Nintendo would even branch out their properties for the sake of Game & Watch games. There are games that share the same names as Zelda and Super Mario Bros., and Mario would star in unique games such as Mario's Cement Factory and Mario's Bombs Away. As if seeing Mario take on more occupations than usual isn't enough, Bombs Away has him in military clothing trying to deliver a bomb to a fellow soldier while a smoking guy throws cigarette butts into oil.
Nintendo were far from the only ones to dish out notable electronic handheld games, however. Kicking and screaming on the side were Tiger Electronics. Those that have seen Angry Video Game Nerd will know exactly what I'm talking about. I think Tiger may have done some original titles early on, but they have since gained popularity with the numerous licensed properties it got a hold of. Batman, Hang On, Castlevania, Toy Story, Double Dragon, Full House, Star Wars, Sonic the Hedgehog, Doug, The Little Mermaid, Home Alone, Aladdin, Paperboy, and Street Fighter II all serve as a few examples of properties turned into LCD games produced by Tiger.
The interesting thing about Tiger's stuff is that despite the Game Boy's launch popularizing the idea of console-like games being played on the go, their LCD games were so popular that they continued making them throughout the 1990s. Only really late into the decade did they finally stop deciding to do this. As such, Tiger games based on Nights Into Dreams and Crash Bandicoot exist. Really. However, since Tiger did pump all these out much quicker than Nintendo ever would, they are also very unreliable in terms of quality. There are some good Tiger games in there like Sonic 2 surprisingly enough, but titles like Mighty Morphin' Power Rangers and the aforementioned Crash game play like crap. The hardware itself also aged poorly; notably, the buttons are uncomfortable to press.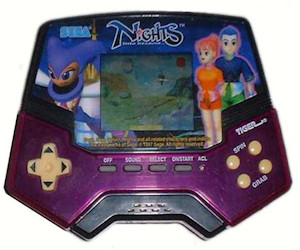 If you weren't playing these with two hands gripping them tightly, then there may actually be a chance you may be playing them on your wrist. Believe it or not, there are tiny LCD games that players can strap around their wrists like watches. One company, Nelsonic, explicitly labeled theirs as Game Watches; there's no relation to Nintendo's Game & Watch series, but that hasn't stopped them from using Super Mario games, Zelda, Tetris, and even Star Fox for some of their watches. I suppose it makes more sense for Nelsonic's lineup name, though. While Game & Watch games do tell time, calling them watches seems misleading since, of course, they can't be worn around the wrist. There were also ones by companies like Tiger, but they aren't anything remarkable.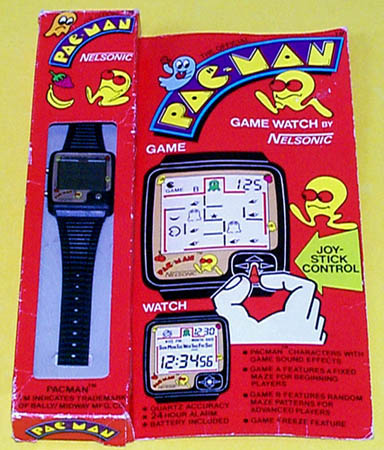 Nintendo eventually re-released a handful of their Game & Watch titles in 1998 as Mini Classics, and even made Spider Man and Yu-Gi-Oh games alongside them. Unfortunately, ever since the 2000s began, LCD games in general more-or-less declined for obvious reasons. The retail market just wasn't kind to these inexpensively made products after handheld gaming has been revolutionized throughout the previous decade. Kellogg's cereal boxes and fast-food restaurants like McDonald's were new homes for these games. On rare occasions where they didn't feel like putting toys into these places, they would instead use novelty LCD games.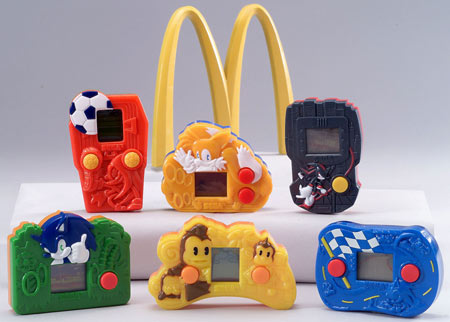 Tony Hawk, SEGA (again), Spyro, Crash (again), and even the Xbox 360 provided promotions that involved LCD "minigames" to be uncovered from a kids meal or cereal box. As a little kid, I always wanted to get all of them the same way others would want a set of collectable toys. I never got to own them all, but these promotional games don't fetch the amount of dollars that most LCD games of decades prior fetch on eBay.
Speaking of collectable, however, LCD games today primarily serve to be just that. Their presence may be drastically quiet now, but if you were to go to a toy store and find novelty items, you'll likely see at least once LCD game on display. Pictured above are recreated takes on Pac-Man and Space Invaders released just last year by Basic Fun! Tetris also manages to find its way around the market time and time again. More interestingly, Mattel's old Basketball and Football games were re-released for a budget price around the same time as the Basic Fun games. Perhaps you can use that as an excuse to look back on handheld gaming's past if you're curious enough.