SUPER
SMAAAAAAAAAAASH
BRRROOOOOOOOOOOOOOOOOOOOOOOOOOOOOOOOOOOOSS.!!!!!!!!!
Man! Nothing gets me more pumped up to play a game than Super Smash Bros.'s intro!
Who would have ever thought there would be a crossover game where you could play as several different Nintendo characters and beat the crap out of each other?! I bet no one back in the 1990s would've ever predicted something like that could exist. Alas, Masahiro Sakurai, Satoru Iwata, and more have delivered such a game. The result was the original Super Smash Bros. and it became a breakout hit in ways that not even Nintendo imagined! How could that have been, though? Maybe it was because of the idea that players could beat the crap out of each other as beloved Nintendo characters??
It wasn't always meant to be like that, believe it or not. The finalized take on Super Smash Bros. is the result of a very smart change of plans from a project called Dragon King: The Fighting Game. Even more bizarre to realize is that the game had a small budget and was built primarily on weekends as a side project. The title was essentially crafted from a moderate amount of resources and wasn't necessarily treated as anything major. In fact, Nintendo didn't even really make an attempt at advertising it in Japan. The success just…happened. As such, it got released internationally and became its own million-selling franchise.
Only Nintendo could have such a following and diverse selection of characters to duke it out with. It wasn't necessarily just the colorful cast that drew attention, however; it was also the gameplay style that intrigued many. It wasn't like a typical fighting game where you had to remember a surplus of button combinations like a shopping list written in binary. Here, in order to pull off a move, it's usually just a tap of a button or a pairing of a button and direction. Along with that, characters could run and jump around dynamic stages as if this is a platforming game. Super Smash Bros. was simply not like any other fighter out there at the time! Everything controlled differently than in titles like Street Fighter or Mortal Kombat. The onscreen characters don't even rely on health to stay alive; they instead have percentage ratios that indicate the probability of death. The higher it rises, the more likely that character will fly out of bounds from an attack and lose a life. There are even all sorts of kooky items that players could use against each other like laser guns, bumpers, bombs, and even Pokemon popping out of Pokeballs!
The whole thing is ingenious! I'm sure many studios out there wished they did the same thing with their franchises. Now that so many years have passed, however, Super Smash Bros. is more often than not overshadowed by its sequels. Super Smash Bros. Melee in particular is one of the most played games in competitive tournaments, and is the one everybody points to when it comes to the definitive Smash experience. That said, it is fair to say the Nintendo 64 original has lost some luster since its debut. Each of the sequels are literally crammed with all sorts of content and fanservice. From collectible in-game trophies to scoring minigames to the many different ways one could customize the four-player slam fests! As for Smash Bros. on the 64? Well…
There just isn't a lot of content. Even for a Nintendo 64 game.
Let's start with the single-player content. How many single-player modes are there in the original Smash Bros.? THREE. Okay, fine. The training mode is also there, should you want to count that. Beyond that there are the Target Test and Board the Platforms minigames, but the meat of the single-player is a mode where you work your way up to the end by fighting characters in each stage (You know, as structured like an arcade fighting game). That's it. That's all the single-player content there is. What's even more mind-boggling is that the stages in the mode are never randomized; you'll always be fighting the Yoshi team in stage 2, the giant Donkey Kong in stage 6, and so on.
So if you are by yourself and don't often have friends to play with, you are probably going to run out of things to do.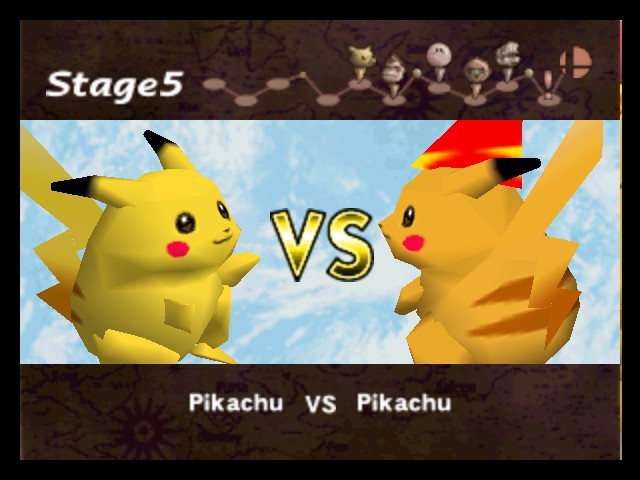 Multiplayer modes aren't any more expansive. You can change stock and time, play in teams or not, and eventually alter how often items spawn if at all. However, there are no further options for customizing the versus matches. And as you may have seen earlier in this article, the character select screen has a maximum of a whopping twelve characters! Four of them are unlockable! As for the amount of playable stages? Nine. Man, modern Smash Bros. players are so spoiled. They keep remarking about clone characters and who should be "nerfed" or "buffed" in an installment that features over fifty characters and stages; imagine if they were forced to stick with the amount of stuff that Super Smash Bros. on Nintendo 64 has. And no, there's no Final Destination.
Seriously! Believe it or not, the stages that serve as the series signatures throughout its duration, Battlefield and Final Destination, are not selectable in the stage select at all. Not even as unlockables. Both of the stages are only ever used during the 1P Classic mode. Interestingly, there's another stage exclusively designed for the mode that was never brought back in a sequel. This stage is the territory of Metal Mario, who is likewise not at all a playable character. Metal boxes would be used as items in the sequels, but in the original Smash? It's an impossibility; I actually think it adds to his character. Everything about the battle against Metal Mario has sort of a creepy vibe to it. He makes metallic walking noises, and can be a heavy hitter.
Heck, Master Hand, the game's final boss, is nightmare fuel by itself! Whereas the game's announcer would typically exclaim who the player is fighting before the match begins, he stays completely silent in favor of a strange ambiance when Master Hand is introduced. On top of being a freaking magical hand, it's the only character that has a health meter. So the player has to keep attacking it, but then it pulls off crazy moves like shooting exploding bullets or drilling his fingers into the ground. This epic final bout is complemented by the equally epic music.
I should probably take note of Super Smash Bros.'s sound before wrapping things up. The music is simply awesome. It's filled with great remixes of classic Nintendo music that take a solid advantage of the N64's soundfont. The original pieces are great stuff, as well. I can never get enough of the themes for Metal Mario and Master Hand, and the tunes that play during the Target Test and Platform Boarding levels are relaxing yet catchy.
The sound effects deserve a special mention for being some of the best sounds to ever suit a fighting game! Anyone playing the game could feel a huge impact from even the littlest of attacks thanks to the "pop" factor. YouTuber "Somecallmejohnny" said it best: "It's like all my opponents were bowling pins, and I was the bowling ball!" Apparently, the sounds were completely different in the Japanese version of the game; they were a lot more realistic-sounding. In hindsight, it was an excellent decision to crunchify them for international releases.
Super Smash Bros. has certainly been an excellent pick for multiplayer purposes. It probably won't be an easy consideration for players of any of the game's sequels, but I'd say there are enough historical curiosities and elements featured here that could have the game worth checking out. Better bring some friends along for the ride, though.
As for the game's place in history, I'm sure any Nintendo fan could give it credit for its ability to become one of the Big N's top-tier franchises. The realization that this simple weekends-only project would ever become something so grand and well beloved could only be one that gamers can look at in awe!