2005 was a pretty big year for good ol' Paccy. There was a surprisingly big amount of games for the franchise released on just that year, with the majority of them intended to celebrate Pac-Man's 25th Anniversary. For starters, there was a new arcade cabinet featuring Pac-Man, Ms. Pac-Man, and Galaga; it was really just a rehash of the popular 2001 Ms. Pac-Man/Galaga duo cabinet, except the original Pac-Man isn't locked behind a secret button code. Then there was Namco Museum Battle Collection (which contained a new game sharing the same name as 1996's Pac-Man Arrangement) on PSP, Pac-Man Pinball Advance for GBA, Pac-Pix for DS, Pac 'n Roll for DS, Pac-Man World 2 for GBA, and Pac-Man himself even gets to star alongside Mario in Mario Kart Arcade GP for arcades! Holy crap, that's a lot of games!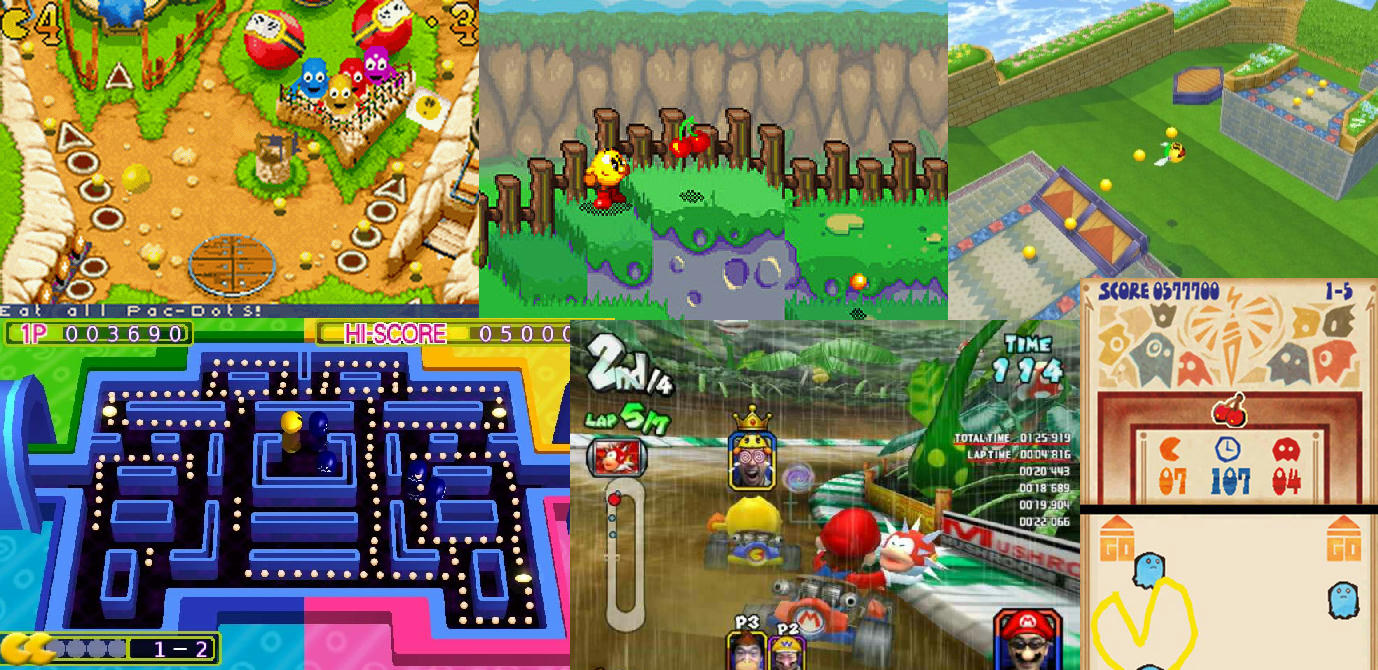 Perhaps the "big game" out of all them though is none other than Pac-Man World 3. Released for Playstation 2, Xbox, Nintendo Gamecube, PC, and even for PSP and DS (I'll explain more about the handheld ports further down the article), this game was developed by Blitz Games of all studios. For those that don't know about the company, it was founded by the Oliver Twins; the studio would typically create licensed titles in varying degrees of success, but the Twins themselves are often known for their Dizzy series.
It's funny because Pac-Man's "arms and legs design" looks a lot like Dizzy.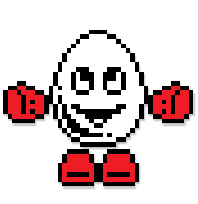 But anyway, back to Pac-Man World 3. This game is so drastically different from its predecessors that I sometimes wonder why it is considered to be a third installment in the series. It was never released in Japan, and the entire tone of the game is an extreme contrast to the happy-go-lucky look Pac-Man games usually take on. The worlds are all bleak and realistic-looking, and they're populated with monsters and robots that look all sinister and stuff…The game was taken in a very strange direction, to say the least. I mean, just look at the first level! It ain't a beach or a grassland. Instead it's a waste dump filled with busted machinery!
So how did poor Pac-Man get here? Well, he was about to celebrate his birthday with his family (Gettin' a sense of deja vu here…), but some weird stuff is going on and he keeps teleporting all around the place.
You can watch the game's beginning cutscene below to see what I mean.
If you're still confused, allow me to explain some things. The ghost's tinkering around with the arcade cabinet is why Pac-Man is spiraling out of control. Who is this ghost, you may ask? Orson! From the first Pac-Man World! He's not a villain this time, though. He's gained puberty and, more importantly, is trying to teleport Pac-Man out of Pac-Village as a means to get to the game's premise (Basically, an evildoer is trying to destroy both the ghost realm, Pac-Land, and possibly the rest of the world). Finally, yes. Pac-Man now talks. He is voiced by Martin T. Sherman of Thomas the Tank Engine fame. While it is pretty sudden to hear Pac speak full sentences with an adult male voice…I actually think Sherman was the best pick they could have ever had for the character, really. For what it's worth, the voice cast in general does an excellent job filling in their roles for the beloved Pac-Man characters. Their deliveries are as convincing and on-point as that of a well-regarded cartoon series (Albeit there are those rare instances where the execution of a line could've been better). Better get used to them, because they talk a lot.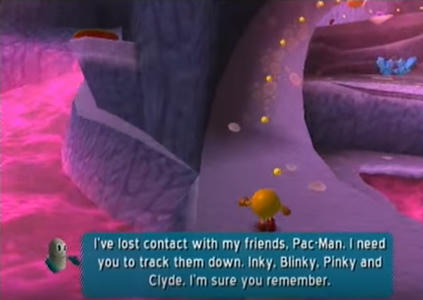 Fortunately, it's not like Sonic Boom: Rise of Lyric where characters would repeatedly shout one-liners over and over again. Pac-Man World 3 contains a plethora of cutscenes and dialogue during gameplay, and they all are mainly either for elaborating on story details, providing insight on a character, or perhaps just telling a chuckleworthy joke or two. Heck if I know how the characters could be able to communicate with each other, but it sure beats solely listening to the background music. Whereas the previous Pac-Man Worlds had catchy and lively soundtracks, 3's is full of moody atmospheric pieces. There are some memorable ones in the game, but this isn't really what I would have in mind for a 3D platformer featuring Pac-Man (especially when the music doesn't loop, leading to pure silence in the background before a certain event happens in the level and the game plays a different piece). It gets confusing when thinking about how the dialogue is rather lighthearted in comparison.
The writing is good for the most part, but it isn't without some quirks and/or inconsistencies. I'm glad the characters have distinct personalities; they also work off of each other in a natural fashion as if the voice actors were recording together in the same room. What concerns me is that there are lines that would seem mismanaged every now and then.
For example, Orson actually tells Pac-Man about the missing four ghosts twice in separate exchanges. There was also this one exchange where a newcomer and Orson would briefly discuss about the situation at hand, and Pac-Man would suddenly say "You guys need to snap out of it! We've got a job to do, so we do the job! It's pretty straightforward!" That is despite them not really complaining about anything, and this was the only time they were discussing about the condition of the situation while the player explores the level at hand. Heck, there was even this one time where Pac-Man referred to the robot enemies as "K-Trons" for the first time…many levels into the game. Yet he mentioned them in a casual way as if he's known what they were called all his life.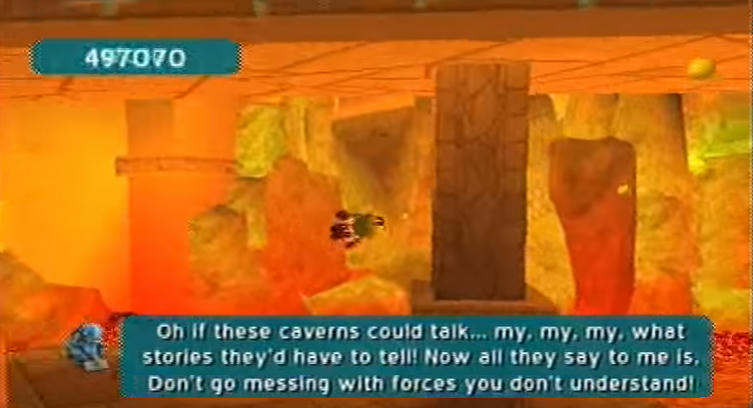 All that said, the writing did successfully entertain me, and I appreciate it for that. There are a good amount of chuckles to be had with the humorous sides of things. Just the fact that there's a reference to Homestar Runner ("Kinda hard to type with boxing gloves on, Ors. Got a Plan B?") in a Pac-Man game is a fact to behold. Pac-Man himself is delightfully snarky and sarcastic, so a lot of the humor could come from him making some sort of sharp remark or minor mockery. Listening to the other characters having their say on what's going on is certainly welcome as well.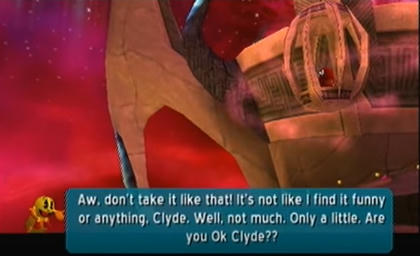 Boy, I've been talking way too much about the dialogue and characters. I'll just say this before moving on: The new characters seriously should've tried looking like they belong in a Pac-Man game. The main villain, Erwin, looks more like he's from Destroy All Humans.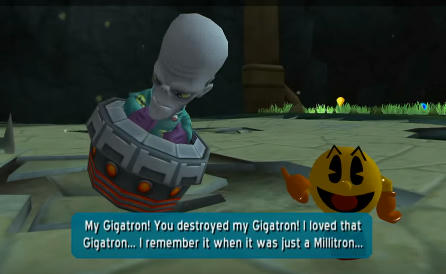 So, how is the gameplay in Pac-Man World 3?
Well, it does bear some sort of resemblance to Pac-Man World 2 (which is somewhat ironic since the game likes to call back to the first game every now and then). You get to freely roam around a huge landscape, and Pac-Man can do a lot of the same moves as usual. He can Butt Bounce, Rev Roll (a la Sonic's spin dash), grab onto edges of cliffs, and collect dots, fruit, and power pellets to eat up not ghosts, but "spectral monsters"…which really act as simply carbon copies of ghosts anyway.
Now here are the differences. If Pac-Man Butt Bounces three times, he creates a blue explode-y aura that hits enemies surrounding him. He can also punch enemies with presses of the B button. Power-ups are in the form of specialized Power Pellets; if Pac-Man collects the pink one, he can create explosions by circling around paths he creates. The blue one allows him to use electric shocks on enemies. The green one makes his Butt Bounces way stronger. Finally, the silver one is the series staple: Metal Pac-Man, which grants brief invincibility. Later levels will also have Pac-Man be able to summon Clyde or Pinky – rendering them playable for that time being – for situational puzzles (or also in Clyde's case, defeating spectral monsters without a Power Pellet).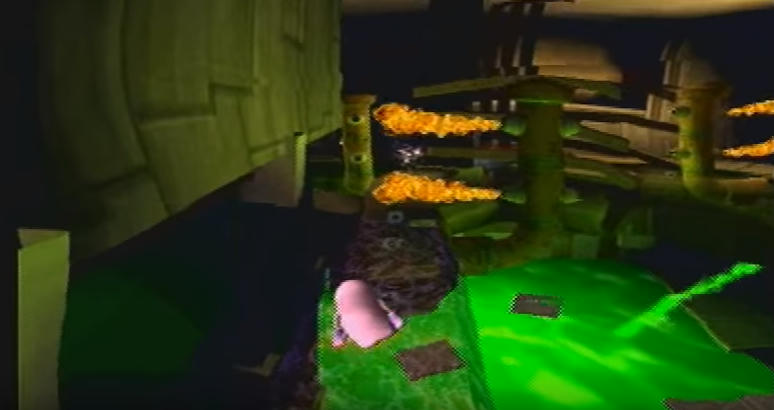 The levels are, in a word, big. The basic goal is still to reach the end, but it will be a moderately lengthy trip. So much so that the developers felt the need to implement multiple save points within each level! They definitely made sure the environments were spacious and open! There are of course loads of fruits and other collectibles hidden in many areas, but there's a heavy emphasis on combat and puzzle-platforming this time around. Enemies will be asking for a beating, and there will be puzzle-y items to gather and place in designated areas.
As much as I wish the levels were the colorful type, the detail in what is in Pac-Man World 3 is actually fascinating stuff. For a title from the sixth generation of consoles, the overall visual schemes are pretty darn sleek (even if the Pac-Man characters can look almost out of place from a design point of view). There is a sense of imagination and variety on paper…Although the actual execution can be pretty lacking.
The big problem with Pac-Man World 3 is that it gets repetitive. Like, very repetitive. You can try varying your methods of killing enemies by altering from bouncing to punching or vice versa, but there's no upgrading any of these attacks. You'll be using the same attacks a lot to kill enemies, and there are a lot of parts in the game that require you to kill enemies to make progress. The Power-Up Pellets can make the fights easier to swallow when the opportunity to use them is there, but that's about as far as the combat goes. The spectral monsters add to this endurance; unlike the ghosts in previous games, you have to eat them all so the vortex they came from can fade away and progress could resume.
The puzzle-platforming is fairly straightforward, but I welcome those elements more, if only because I get to explore around the terrain. Even then, the gameplay does pale in comparison to the previous installments. You'll be spending more time wandering around rectifying the glorified lock-and-key puzzles than taking on legitimate platforming challenges. Despite the daunting, grittier visual design of Pac-Man World 3, this game is the easiest of the trilogy. There may be a moment every now and then that keeps the player on his or her toes, but the grand majority of the difficulty is massively downplayed. This even includes falling into bottomless pits, which take away just one hit point instead of a whole life. There's also a lack of enemy variety; I think there are four types at most, with the exception of the giant gorilla-like enemy that appears in two levels.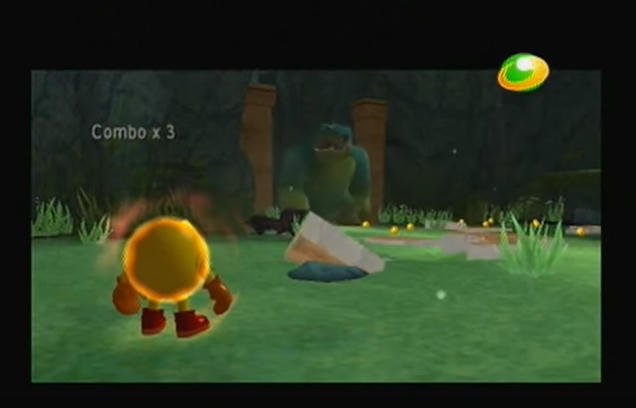 Speaking of two, how many times do you think Pac-Man gets to battle Erwin? You know, the main villain?
Two. Erwin is the only boss in the game, and you fight him two times. And his second fight is just a slightly beefier variation of the first. Yeah, he is pretty boring. What makes no sense to me is that there is a secondary mook that serves as Erwin's henchman, but he is never really fought. The closest to that is a level finisher where Clyde knocks him into oblivion. It's kind of a waste of potential.
Galaxian items are back, by the way, and just as they always have they allow the player to play special mazes that share the mechanics of traditional arcade-esque Pac-Man. Perhaps to match with the mechanical theme of Pac-Man World 3, the mazes are all techno-y and stuff. While I do miss the graphical themes of previous games' mazes, the pacing is faster this time around. It actually feels a lot like that of Pac-Man Arrangement (the 1995 version, not the 2005 game in Namco Museum Battle Collection). Amusingly, some levels in the main game require the player to play through a maze as a level finisher!
Pac-Man World 3 also has some extras sprinkled in a Museum area, somewhat like in its predecessor. The major difference is that Pac-Man World 2 has multiple classic Pac-Man games available for play when enough tokens are collected. For this game? We're back to just having the original Pac-Man. It's disappointing, but it's not a total loss; the developers did add trivial extras to the mix.
There are collectible in-game character cards that…are just that. The lack of info or descriptions make these rather scrappy. I find myself a lot more interested in the timeline and a special video interview featuring Toru Iwatani. The timeline isn't picture-reliant, but the little descriptions for each game are a neat read. Funnily it does contain info on Baby Pac-Man, Jr. Pac-Man, Professor Pac-Man, and Mr. & Mrs. Pac-Man, all of which were made by Midway without Namco's authorization. Easily my favorite part of the Museum is the Toru Iwatani interview. It's a great video, containing plenty of fun facts about the original Pac-Man and other insights from Iwatani himself.

As for Pac-Man World 3 itself, it can be worth a play if just to see how bizarre and far-fetched the concept of a Pac-Man game has been taken with its setting and mechanics. Don't expect it to live up to its predecessors as a video game, however. The repetitive nature of its game design and dark atmosphere clashing with its cartoon-like writing does hold the game back by quite a bit in comparison. I'd end the Retro Review here, but there's still the matter of the handheld versions of the game…
The PSP version is actually a near-identical port of the console game, albeit with a few subtle differences. Here are the most major: There's no save points within each level for some reason, but the PSP's easy-to-use sleep mode is a convenient substitute. The silencing issue regarding the background music has been fixed, but now the music never changes depending on what happens in the level, so there's only one music piece per level. But all in all, this is basically the console version except on the go, which is cool. In fact, some of the screenshots I used for this article are from the PSP game.
As for the DS version, for some odd reason, shovelware development team Human Soft was responsible for this version. Simply put: This one is a trainwreck. Why couldn't anyone have tried putting Pac-Man World 1 or 2 on the DS instead? Back then, the best 3D game that was capable on the platform was a port of a freaking Nintendo 64 game! The resulting Pac-Man World 3 for DS has all the problems that plague bad 3D games. Low draw distance, problematic camera, glitches aplenty, massively confusing levels, lack of intuitive design choices, and the list goes on! There's absolutely no dialogue in the game, which not only leaves the player with just the atmospheric music, but it also means if you haven't played the console game, you'll have absolutely no idea why Pac-Man is roaming in these levels! There are intro and end cutscenes, but they are played out like slideshows instead of FMV scenes! This even applies to the goddamn Iwatani interview! There's also only one maze in the entire game, and it's an "extra"! It's a crappier version of the original Pac-Man maze, and when it's beaten, a "You Win!" box pops up and the game cuts back to the title screen. Holy hell, this port is a mess!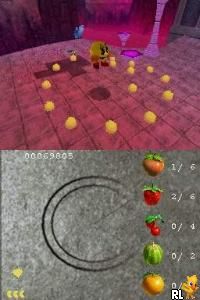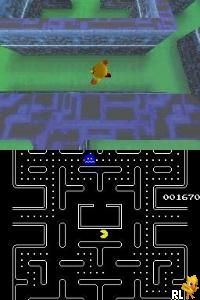 So, if you feel the need to play Pac-Man World 3, do it on anywhere but the DS. That is all.