For the 20th Anniversary of the most popular gaming icon of all time, Namco released a platformer for the Playstation that served as Pac-Man's transition to breaking the polygonal ceiling with all the other 2D platforming mascots that tried before. While other properties try to play catch-up with Super Mario 64 and Crash Bandicoot, Pac-Man World sorta did its own stylistic twist on 3D platforming; it's actually pretty comparable to what Super Mario 3D Land would eventually do. It has elements of 2D Pac-Man and 2D platforming in general, but utilizes them within a 3D space. While the levels are much more linear than that of Mario 64's exploration, there are still multiple pathways to take for extra goodies and unlockables.
Since this is a Pac-Man game, you can expect to see the yellow muncher chomping off of ghosts, dots, and fruits throughout the adventure. He can do a lot more in this game, though. The Pacster has a butt-bouncing move used to stomp enemies, switches, or breakable objects, a rolling move not unlike Sonic's spin dash attack, and he can even throw dots to create little explosions. The premise of Pac-Man World is that an evil impostor robot named Toc-Man has captured Pac-Man's friends as they were preparing for his party. Naturally, Pac has to go out to Ghost Island and save them. While players can stroll through the levels to clear them, they would actually have to find hidden keys in the worlds in order to free Pac's friends from their cages. This is required in order to reach the final world.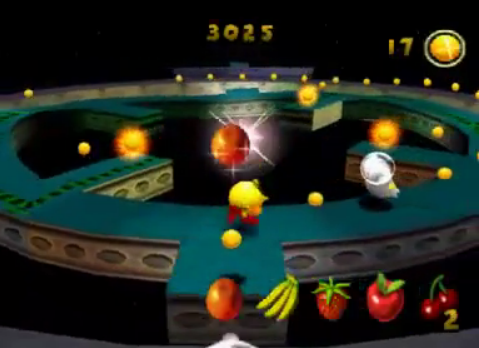 That said, the levels have a very charming flair to them. Pac-Man will be traversing circuses, pirate coves, and even outer space throughout the duration of the game! There is a heavy sense of creativity within the presentation. Everything feels very dynamic and active, almost as if the game is a living cartoon. It's helped by the pleasingly colorful graphics and perhaps some of the catchiest music to be on a Playstation game (which is a total shame that plenty of it had to be compressed for the disc). If you think this game seems to be catering towards children, however, you can't be any more wrong; Pac-Man World is hard.
The difficulty isn't immediate, but as it builds up, it can show. The boss battle pictured above, Anubis Rex, has become more-or-less infamous for the fact that the developers didn't actually have enough time to playtest it thoroughly. It's only the second boss, and while it is beatable, players may have to bring their reflexes for this one. Later bosses provide quirky challenges of their own, and many levels contain cleverly varied obstacles along the way. Players can further add to the challenge by going for 100% completion and scouring every collectible and finding all the methods to play the game's mazes.
That's right! Mazes!
Pac-Man World has a slew of mazes that utilize a more classic approach in comparison to the platforming levels. All of them can actually be played from the main menu, but if you want to play through them in one uninterrupted marathon, you'd have to unlock that feature by finding all the mazes in the main game. Eventually the game's sequels would make it so the player has to unlock the mazes in their campaigns in order to play them at all. They would have also made it so the in-maze lives do not affect the output of the main adventure; the original Pac-Man World isn't as generous. In fact, there are even extra hazards in certain mazes, adding more of a chance that the player would lose health or lives in what should have been just seen as a bonus round! Fortunately, there are actual bonus rounds in the game itself, and there are ways for the player to grind extra lives by revisiting levels.
If the mazes weren't enough, the original Pac-Man arcade game is available from the menu. Because why not?
Needless to say, Pac-Man World left a solid impact on the franchise and providing a gaming experience that proved to be ultimately charming, fun, and even addictive. While the sequels would be multi-platform releases, however, this original game had never shied away from the Playstation. There wouldn't even be a re-release anywhere else until 2014, where Bandai Namco finally decided to put it on Playstation 3, PSP, and the Vita all via PSN. That's still quite a lot of Pac-Man love for only Sony platforms, no? Well…There was this one port for the Game Boy Advance, released in 2004. The problem is: Namco left the duties to Full Fat, a small studio that then only produced mediocre licensed titles. For some reason, they would also have them make the GBA ports of Pac-Man World 2 and Ms. Pac-Man Maze Madness, and even have a worse studio create the DS version of Pac-Man World 3. But I'm getting ahead of myself.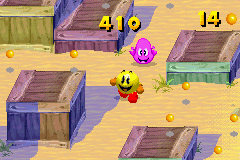 Now, as far as Full Fat is concerned, this could have easily been worse. The graphics are pre-rendered fairly nicely, and the basic mechanics of the original game are intact. After all, before the PSN re-release, this was the only attempt to put Pac-Man World on a portable platform. Why didn't Namco opt to hire a more experienced studio to make a DS port, though? Wouldn't that be the more logical decision? Beats the crap out of me, that's for sure.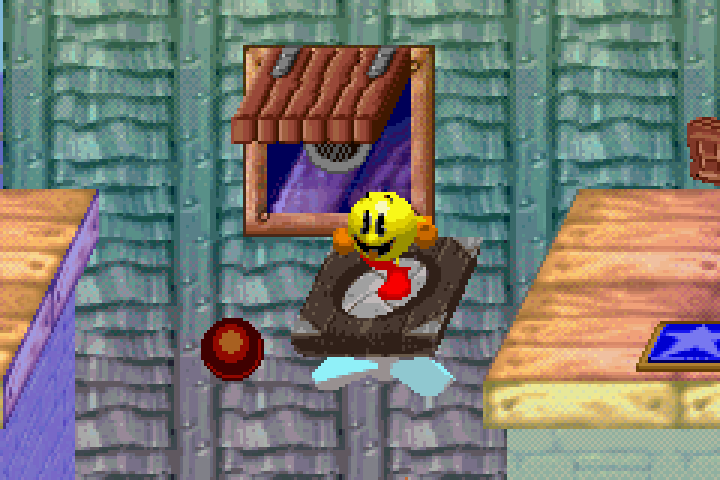 So what is wrong with Pac-Man World on the Game Boy Advance? Well, for starters, a lot of content is gone. None of the mazes are present! There's somehow no inclusion of the original Pac-Man! Sound effects are either downplayed or gone! Worst of all, entire levels and bosses from the main game are absent altogether! The only boss that remains is the final, and all levels that do exist no longer have their own unique background music pieces; they would always borrow the track from the first level of their respective worlds. Even then, a couple small parts are cut from the songs! Holy crap, this game is stripped! And no, I wouldn't say it's because of system limitations; Crash Bandicoot and Banjo-Kazooie have successfully brought their own distinct styles and gameplay to the GBA without much sacrifice.
The levels themselves can also feel static in comparison to the dynamic feel of the Playstation game. Not helping is that there's only one camera angle throughout the entire game. One thing I do kinda like is that you don't have to rescue all of Pac-Man's friends (or even play all of the levels from the circus world!) to get to the final world, but playing through the game without going for 100% completion is essentially just neutering something that has already been neutered drastically during the development process. There is still fun to be had going for 100%, especially since this version is a lot easier than the original, but the game otherwise feels considerably bland.
If you're a die-hard Pac-fan, there's no doubting that Pac-Man World is right up your alley for a good hardcore gaming experience. Just be sure to own a console of the Playstation variety to play it on. This port won't quite do the cravings justice. If you do end up getting it, however, you won't necessarily hate it outright. You'll just be left with a small sampling of what the real game has to offer.