Holy crap! HOLY crap!! What a weekend this was for me. For the first time ever, I went to the Penny Arcade Expo and it was an eye-opener. There were so many people there filling the entire building with excitement and enthusiasm, and the exhibit hall contained loads of developers attempting to get their games out there into the public eye! PAX South 2017 was essentially one massive ball of energy. I loved nearly every bit of it.
Admittedly, my first day at PAX South took place when the exhibit hall was already closed by then. It was around 7:00-8:00. Nevertheless, there was plenty to do after the fact. There was an area where people play the Jackbox Party Pack games being projected on a huge theater-like screen; it's already lots of fun to play Quiplash and Drawful with friends and family, but with an audience of about forty people participating? Laughter was frequent and cherished throughout the entire time (Unless, of course, if certain people's punchlines were painfully unfunny)!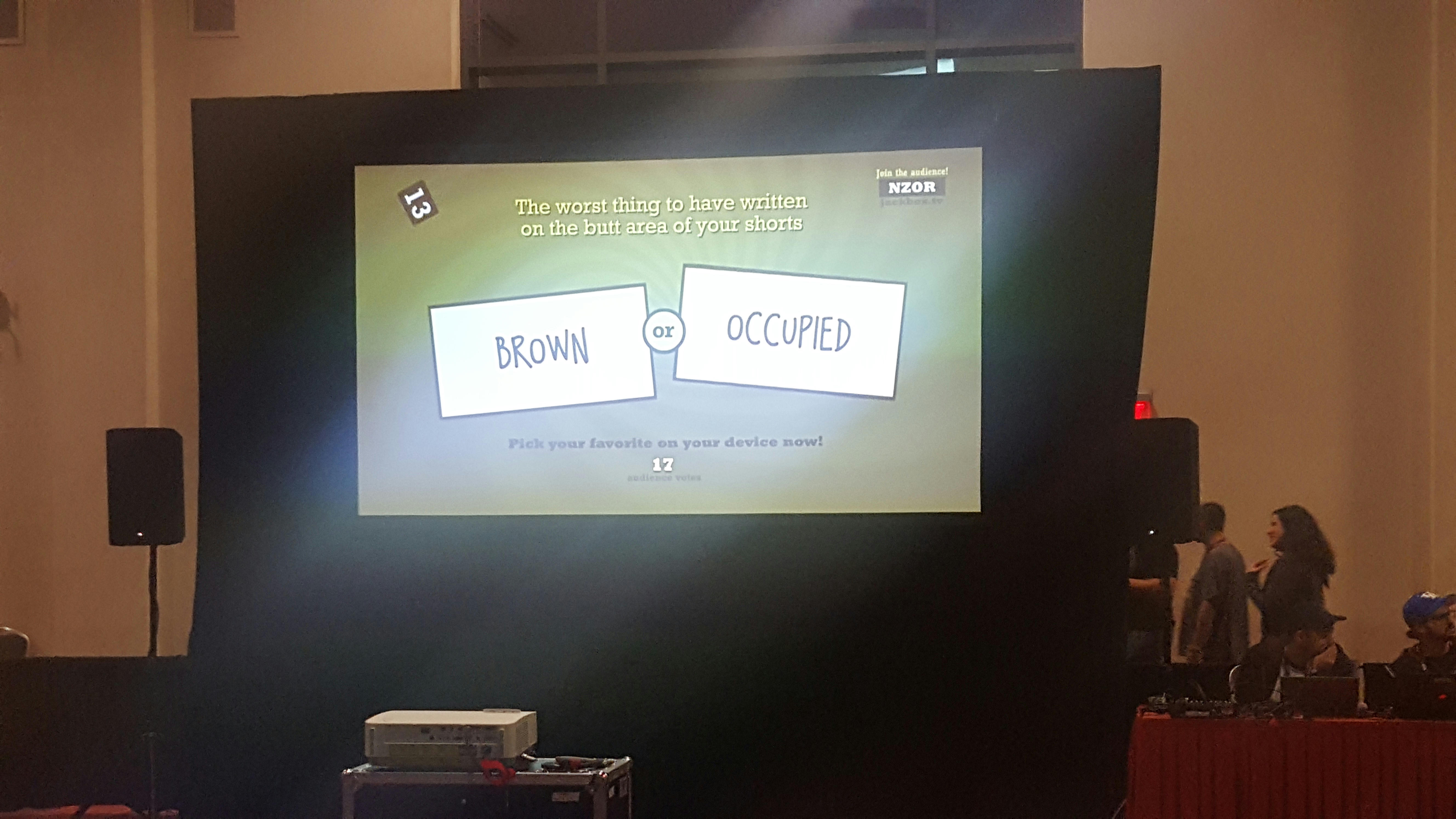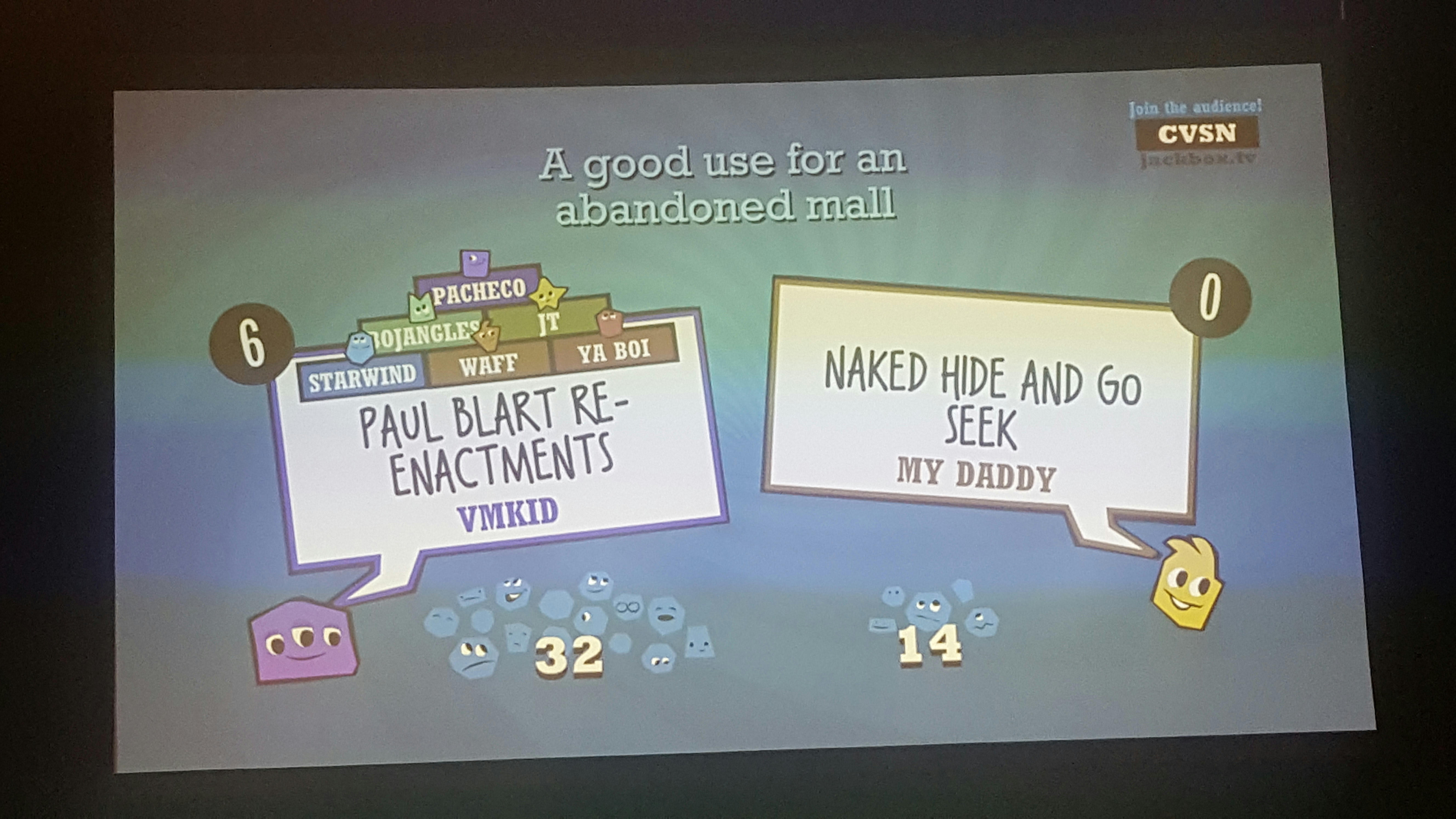 After some more scavenging around the convention center, I came across a couple rooms that are filled to the brim with classic video games! A humongous wide room was present and featured as many classic-to-modern video game consoles as you could ever possibly recall! Below is a camera recording of the room.
There is an arcade set up with tons of interesting selections ready to be played by anybody that enters the room. They range from the beat 'em ups like X-Men, The Simpsons, and Batman Forever, to titles like Windjammers, Mortal Kombat, and even Terminator II and Twilight Zone pinball cabinets. I spent my time there playing the last couple levels of The Simpsons.
Saturday was where things got even more interesting, because that was when I actually got to enter the exhibit hall! And boy were there games to talk about. Allow me to dedicate a paragraph to each game I played.
Semispheres
This was the first game I played in the exhibit hall; a few of us at TICGN actually gathered together for certain titles as a means to provide PAX South coverage for the site. My biggest input from this was interviewing Radu Muresan, the creator of Semispheres. A twin-stick puzzle game that started out as an entry for a game jam, Semispheres has the player solve puzzles by controlling two separate avatars simultaneously and having them perform actions that may or may not affect each other's space. It's simple, fun, and carries a lot of potential for thoroughly interesting puzzle designs.
Semispheres will appear on Steam in February 2017.
Slime-San
This pixelated indie is a swift game from the addictive platformer variety. The title protagonist has been eaten by a huge worm, and all the bite-sized levels present in the game (Well, the demo anyway) take place within the creature. Slime-San itself is quite the acrobatic slimeball, as it can hop up walls, slow itself down and change color, and perform jumps in mid-air if the player didn't hit the jump button as he or she ran off the ground. Running at 60 FPS and providing slick presentations such as the level transition featuring Slime-san bouncing across the worm's insides, Slime-San is a pretty rad title to look out for!
Slime-San will be arriving on Steam in April 2017.
Freedom Planet 2
What could I say? Ever since I played the demo for the first game back in 2014's Florida Supercon, my eyes have been on GalaxyTrail since! Although running on Unity instead of Clickteam's software like the original, Freedom Planet 2 is every bit as approachable to series fanatics as it is awesome to play at all. They also had the first game available to play at their booth, which certainly helps newcomers get acquainted with this mish-mash of Sonic the Hedgehog and various action-packed 90s affairs like Gunstar Heroes. Freedom Planet 2 could be seen as more of the same, but in this case, that can't possibly be a bad thing!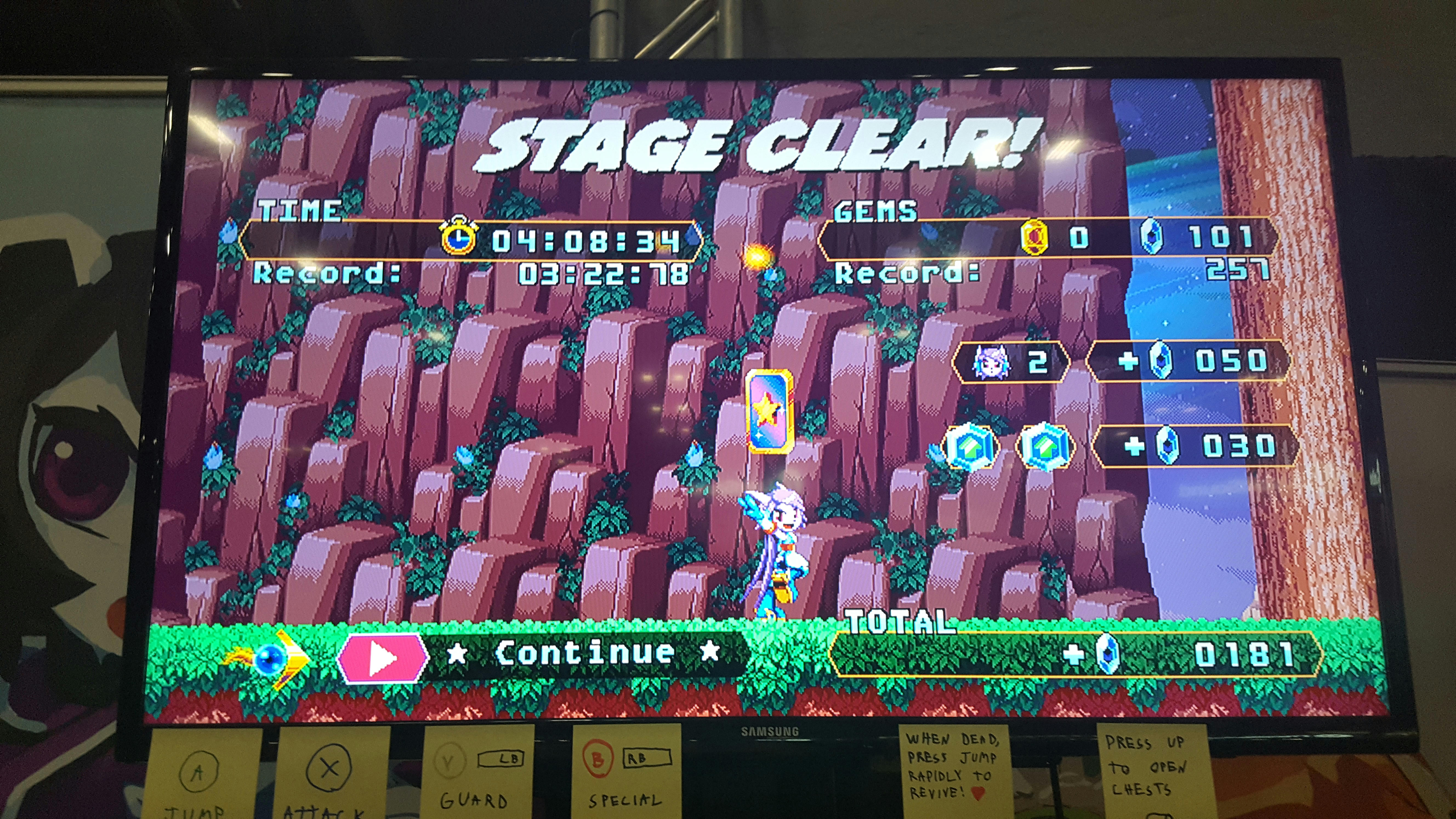 Freedom Planet 2 is coming to Steam (and possibly the Nintendo Switch) sometime in 2018.
Hyper Universe
For this one, I played as fellow TICGN member Peter interviewed the game's PR doctor, Cameron Turner (Brand Manager for Nexon America). It's a new take on the MOBA genre, which isn't really something I'd typically go out of my way to play. However, I did find myself having fun with Hyper Universe anyway. The game pits two teams against each other, and through means of using a variety of attacks on a 2D platformer-esque plane, one would overcome the other and steal its bases. It is a pretty intriguing title as a result, to say the very least.
It's coming soon, but I'm not entirely sure when (possibly 2017) and I can only assume it will be a Steam release.
Monster Boy and the Cursed Kingdom
I've never played a Wonder Boy game prior to Cursed Kingdom, and now that I have, I should probably check out some of the older titles! Monster Boy and the Cursed Kingdom's asethetics and sense of humor reminded me of Shantae: 1/2 Genie Hero, and that's a good thing. This platformer nevertheless gives off oldschool vibes with its mechanics and charm, but provides cool features such as different kinds of gear or weapons as well as a sense of exploration. The highlight is, of course, when the main character transforms into an animal to utilize new powers.
Monster Boy is coming to Steam, the Nintendo Switch, Xbox One, and Playstation 4 sometime in 2017.
Brawlout
When it comes to any four-player platforming fighting game, Super Smash Bros. proves to be the basis for how things should be handled. Brawlout is no exception to this rule, as the basic rules for the game are just about identical in that regard. It certainly was fun playing with three other people and learning the mechanics of the original characters provided. However, I do feel like the general feel of the game could use improvement. I understand it's hard to match the polish of Smash Bros., but Brawlout needs more to convince people that this would indeed be a top-tier title for Smash Bros. enthusiasts that would like to play something that isn't called Super Smash Bros.
Brawlout will be coming to Steam, Xbox One, and Playstation 4 sometime in early 2017.
Brawlhalla
Yep, there was another game at PAX South with "Brawl" in the name! Brawlhalla also follows the formula of Super Smash Bros., but utilizes 2D sprites and environments. What stuck out to me here was that the controls didn't feel as intuitive. For much of my time playing, I thought there were only two attack buttons that only do moderate attacks. Then, when I found out that there was a third button used for "heavy" attacks, I immediately tied up the game and won the sudden death round. What I'm saying is there appears to be balancing issues. At least the game is free to play.
Brawlhalla has actually been out on Steam for a couple years now.
Light Fall
This puzzle-platformer takes on a monochromatic atmosphere as a means to convey its story and gameplay. Anything dark is safe, and anything light may kill you. It's a very sound concept with a satisfying execution that displays clever ideas and fun platforming challenges. My nitpick is that I feel like the voice acting for the narrator could potentially deter the atmosphere set for the game. It sounds more like a Saturday morning cartoon sort of voice than, say, something that suits a visually dark game like Limbo; hearing it say the word "hell" further adds to my puzzlement. Other than that, I am certainly looking forward to this one.
Light Fall is coming to Playstation 4, Xbox One, and Steam possibly in the summer.
Date Me Super Senpai
Created by a dedicated team of highschoolers is an "open world" dating sim that takes place in a school populated by superheroes! If there's anything Date Me Super Senpai had going for it, it was its sense of humor. It was otherwise a fairly unfinished project with a few oddities accidentally left in the demonstration, but has nevertheless been intriguing to check out if for some genuine laughs.
Pao Pao Siao Chou Tou
This one's another student project, and it hails from somewhere within the Academy of Art University. Pao Pao Siao Chou Tou is a simple platforming game with a handful of levels created for showing at PAX South. Other than finding three hidden tennis balls in each level, the game is par for the course when it comes to conveying the typical platforming elements. I had my fair share of enjoyment from this one since platforming is my favorite game genre (as evidenced by the many platformers I covered above), but it's clear this is really more for showing what students would learn rather than offering everlasting impressions.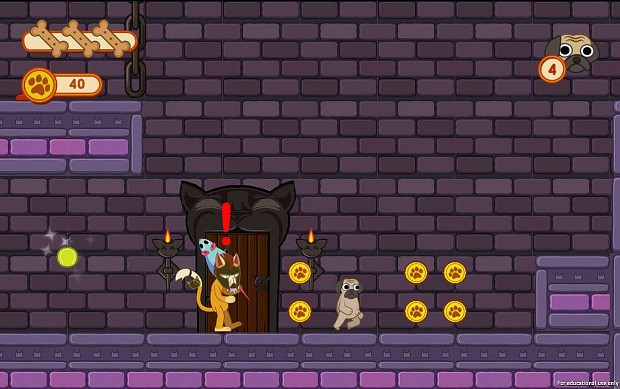 Interestingly, Pao Pao Siao Chou Tou actually appears to be available on Amazon Appstore and indiedb.com.
That was everything I played on Saturday at PAX South! I ended the day with fellow TICGN members Peter, Fame, and Nick as we recapped our experiences from the day in an episode of TICGN's podcast.
As you can see, I kept myself busy and played as many games as I could possibly stomach. Even after the podcast was recorded, I participated in more Jackbox Party Pack sessions and even signed up for a Mario Kart 64 tournament. Sadly, I lost on the first round. Fortunately, my PAX South experience was far from over; I still needed to play the Nintendo Switch. Like we explained in the podcast, there was so much hype generated around Nintendo's new console that lines were nigh-impossible to get into! Hence, my third day there…

Never has getting into a line been so infuriating for me.
Frankly, I didn't realize there was a queue line for when PAX South opens at 10:00 am. When I got into the Queue Hall, horror struck as I saw crowds of people making up rows and rows aplenty. It was then I knew I wouldn't be able to get in line for the Nintendo Switch at that period of time. Despite my best efforts, the line closed on me.
Now, the Nintendo Switch booth is divided into three sections, and there is a line for each one. The first section is dedicated to six games that players could only play three of before they have to get back in line. The second section is dedicated entirely to demos of The Legend of Zelda: Breath of the Wild. The third is the part that's decorated with stylized sets to show how the Switch could be played on an airplane, at home, and so on.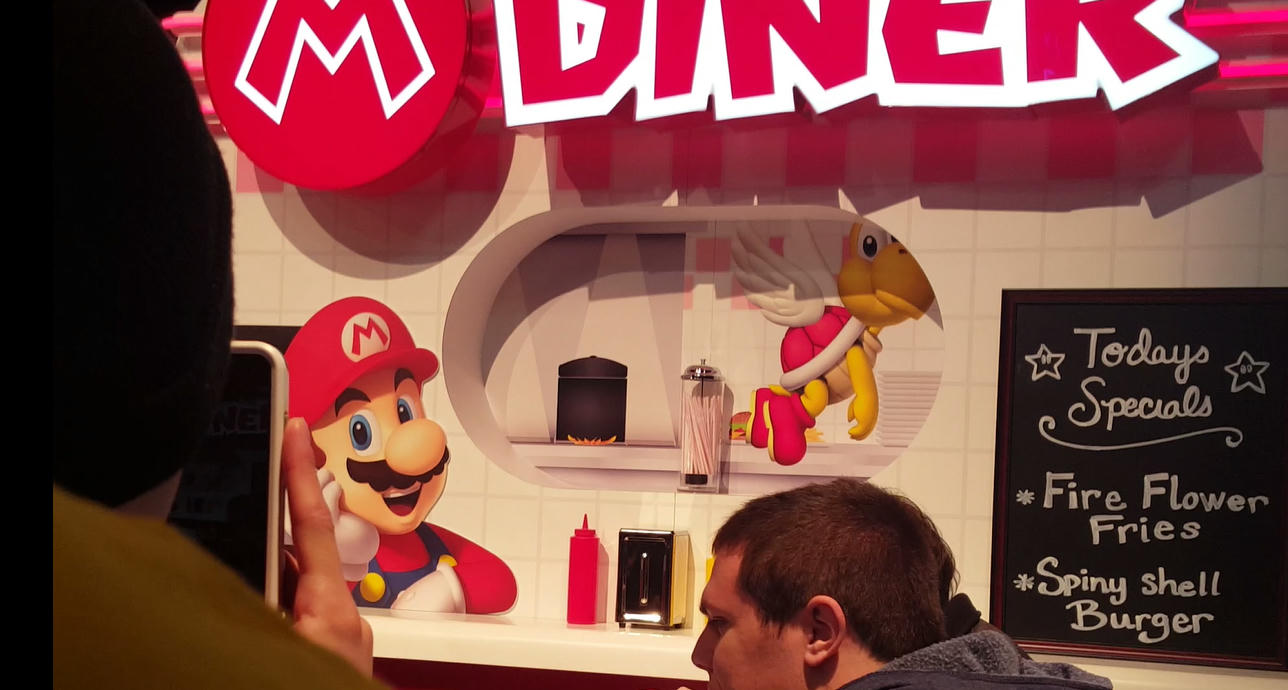 My attempts to butt into the line regarded the first section. There were a couple other people that were in the same situation, so we talked to each other about Nintendo games to ease the pain of getting into the line. We even attempted to go into the line for Has Been Heroes just to play it on Switch hardware, but despite its short length, it took absolutely forever to move an inch!
Then, by pure chance, we got out of the line and headed to the Switch booth just as one of the representatives was picking people to be place in line. When we finally made it into the line, I was then joking along with passersby, saying things like "Oh, this is actually the line to the SEGA booth!" It sure was frustrating to get into the line in the first place, but the wait paid off when we got to see the glorious entrance sign.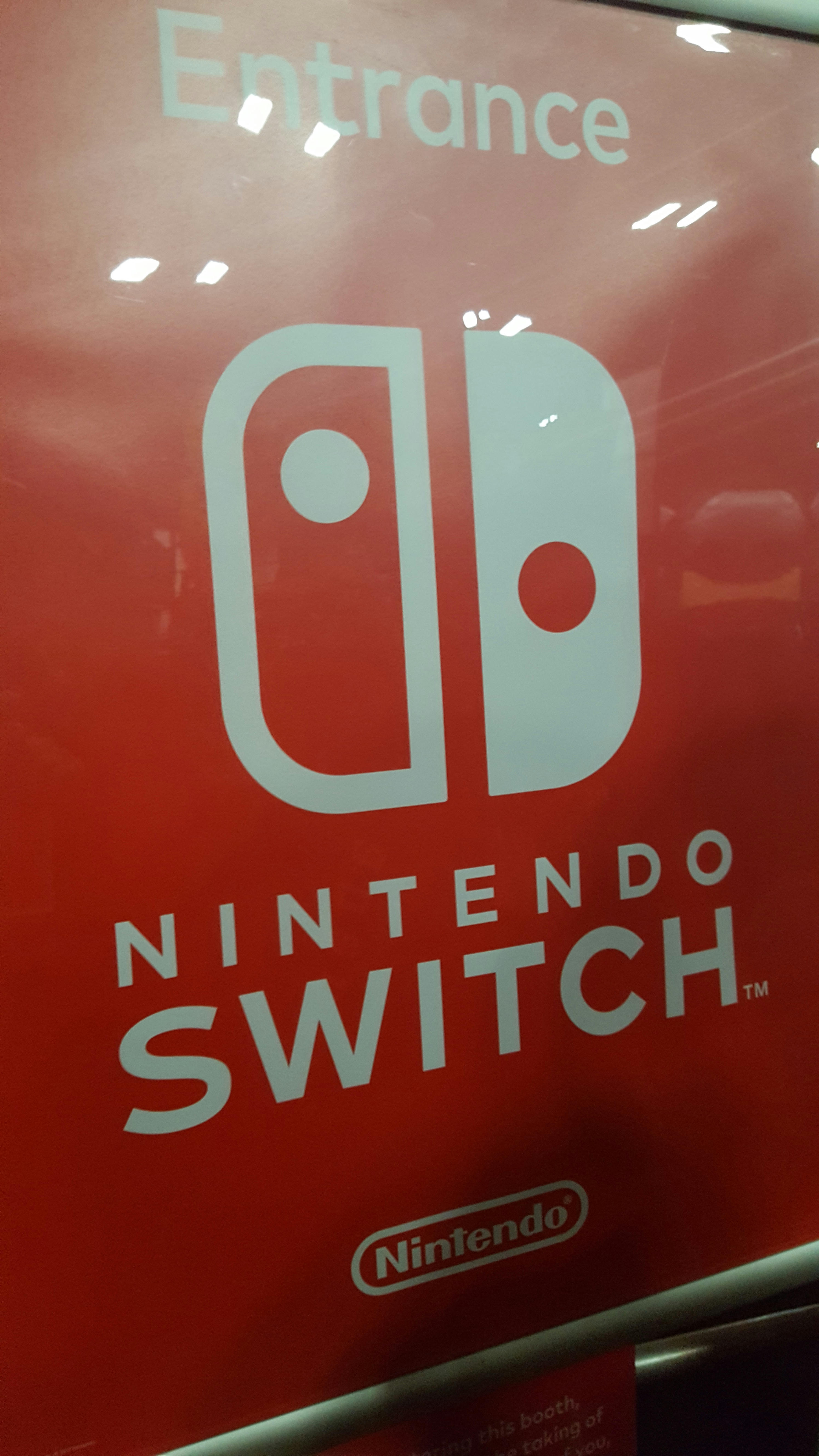 Now for the games! What I played in the first section were the following:
Super Bomberman R
Yes, a Bomberman title was the first Nintendo Switch game I ever played. By process of elimination, I decided 1-2 Switch isn't something I felt like trying anytime soon and that Ultra Street Fighter II is, well, a variation of Street Fighter II. It's been so long since the Bomberman series ever got to live, and the fact that Konami revived it is nothing short of a miracle! I was a bit disappointed to see Super Bomberman R run at 30 FPS (especially since the other games I played ran at 60), but the action is no less hectic and fun in the long run. I was having a riot with the three other people I played with, and the matches were as intense as Bomberman matches could get. I don't plan to pay for the Switch's online features, so I probably won't buy this game until it gets drastically cheaper. However, Bomberman games are best played with others, and Super Bomberman R excels in that regard!
Super Bomberman R will be coming on March 3rd, when the Switch itself is released.
Splatoon 2
Admittedly, I haven't played enough of the first one to get full opinions on either game in the series. Still, what I have played of Splatoon 2 is truly enjoyable stuff. Shooting ink and swimming in it to sneak by and refill ammo is a lot of fun, and it's constantly gratifying to flood walkways and alleys with ink colors. My only concern is that it does play a lot like the original Splatoon. I am hoping that there's enough different contents in the sequel that would allow for people to see it as such instead of a simple expansion. To its credit, I was playing a local multiplayer Turf War match with seven other people; the closest Splatoon had for local multiplayer was a really dumb balloon shooting minigame.
Splatoon 2 will be coming to the Switch this summer.
ARMS
ARMS was a surprising title. It plays like a spruced up evolution of Wii Sports's boxing game. The motion controls were pretty darn responsive and gave off the conveyance that I was really throwing my arms at my opponent. With different techniques to use, special moves, grab attacks, and evasive dodging at the player's disposal, I can imagine ARMS getting a competitive scene. The wildly colorful designs of the arenas and characters add to the wondrous charm.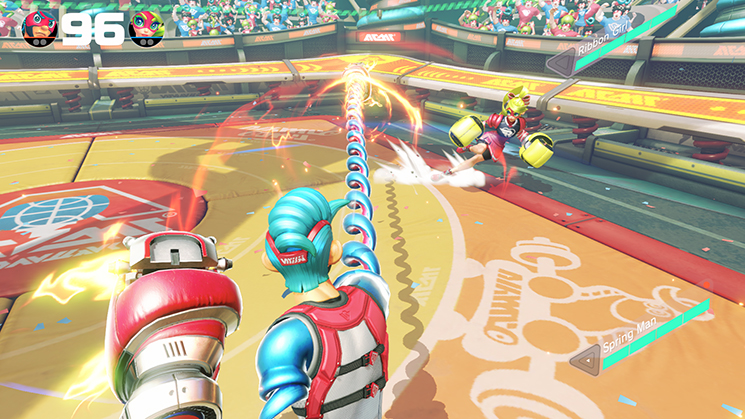 ARMS is intended to arrive to the Switch sometime this spring.
I skipped out on the Zelda section, because I'm not actually that big of a Zelda fan. I still need to play through my copy of A Link to the Past before I get to Breath of the Wild. I did pre-order a bundle with it, though, so who knows how my interest in the series will fluctuate?
Anyway, the third section was surprisingly easier for me to breeze through. There wasn't so much a line as there was a massive blob of people crowded together. Nintendo representatives would simply pluck people from the crowd to try out a game in one of their decorated sets. After just some patience, I got to play the following:
Mario Kart 8 Deluxe
It's very unfortunate that I would have to skip out on this game at retail (at least for now?) on account of online play, because Mario Kart 8 Deluxe really is quite a spectacle to behold. The game was played with a wheel peripheral for the Joycon controller; it's a lot smaller than the Wii Wheel, but it's nothing people can't adjust to. I got to play the newly added Bob Omb Blast mode, which is a battle mode where players ride around to throw bombs at each other. Like the main racing gameplay, Mario Kart 8 Deluxe's battle mode will be bringing back arenas from previous installments as well as provide new ones. It's as much fun as anything else in Mario Kart 8, but it was a huge privilege to get to play such a feature. Interestingly, the game seems to take a couple cues from Mario Kart: Double Dash regarding its updates. Not only does Bob Omb Blast derive from that game, but Mario Kart 8 Deluxe is also borrowing the double item block mechanic; along with rows of singular item blocks along the track, there will also be a few double item blocks placed in there so players could get two items at once instead of one.
Mario Kart 8 Deluxe will arrive to the Switch on April 28th, 2017.
Snipperclips
Weirdly, this was one of the games being demoed in the first section of the booth as well. Anyway, Snipperclips is a 2D puzzle game where two players work together to solve puzzles by means of either cutting each other or forming shapes with the characters' bodies. I was paired with a girl that was also in the audience, and while we did breeze through the tutorial parts fairly quickly, the first puzzle had us stumped straight away! It wasn't until a representative gave us a hint that we would get on track and figure out the thing. Then just moments into the basketball hoop puzzle, the timer ran out and the demo was over. Despite how that went, I think Snipperclips is clever and is a great way to play cooperatively.
Snipperclips will come out for the Switch sometime in March 2017.
This would be where I wrap up things, but there were a couple more indie games I did sneak into my playtime before I left PAX South. They are:
Shovel Knight: Specter of Torment
My experience with Yacht Club Games is similar to that of GalaxyTrail: Supercon was where I discovered the awesomeness that was Shovel Knight. Here, I discovered the awesomeness that was the Specter of Torment campaign. Specter Knight is a joy to control thanks to his interesting abilities. He can run on walls, slash across lights to make extra jumps, and is fairly flexible with his scythe. On top of that, the levels are designed specifically for this campaign and feature a solid amount of new interpretations of what Shovel Knight fans like myself have grown to love. Amusingly, they did have a Switch version available for play for the first two days, but they had to take it down by the third since Nintendo of Japan denied permission to use their console despite Nintendo of America's approval.
Shovel Knight: Specter of Torment (For that matter, Treasure Trove) will be available on all platforms
Shovel Knight has released on in Spring 2017.
Pixel: ru²
Pixel: ru² is a platform-puzzler that involves colors, changing gravity, and killing enemies by shooting at them. The key idea of the game is that collecting all of the colorful dots in the level encodes a message at the bottom of the screen that relates to the overall story. It's a neat concept, and the solid gameplay mechanics back up the overall fun factor. If anything, Pixel: ru² is a bit tricky to play with the mouse, space bar, and WASD keys all having to be used.
Pixel: ru² has actually been available on Steam since 2015.