So 2016 is gone and although many will pretend that it was all a bad dream there were some good things to come out of last year. The amount of good films for example.
My original list was 34 films long and narrowing them to twenty was really difficult. Getting that to 10 was borderline impossible but here we are.
Without further delay here are my
Top Ten Films of 2016
Starting as always with the honorable mentions.
The Edge of Seventeen
Hailee Steinfeld continues her promising career with a high school comedy/drama that isn't terrible. Funny where it needed to be, dramatic at the right times, a tight well delivered script, perfect casting across the board and a directorial debut. On another day with another critic this could easily be much higher. I can see this being scheduled with The Breakfast Club, Ferris Beuller, Perks of Being a Wallflower and my next entry.
The Fundamentals of Caring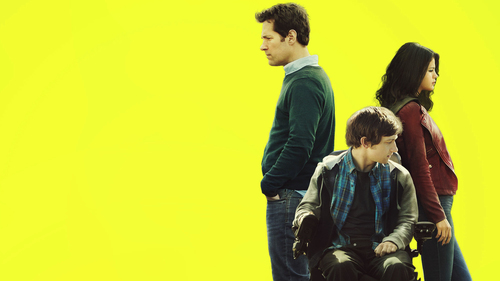 A true surprise on every level. This Netflix comedy/drama starring Paul Rudd, Craig Roberts (Submarine) and Selena Gomez really caught me off guard with just how good it was! Paul Rudd plays a carer who takes a boy on a road trip across America. Nothing suggested I would care about the characters as much as I did. I struggled to find a film like this that used editing and silence to comedic effect this well (the cow scene). I'm glad it was released on Netflix only, this film wouldn't fair well in a cinema. This is perfect for when you can't decide what to watch, something for everyone and that's hard to get nowadays.
Kubo and The Two Strings
Laika studios strike once again. From the makers of Coraline, Kubo is a stop motion film that fools you into thinking it's CG but trust me it really isn't. The only animation to make my list this year as, personally, Zootopia and Finding Dory just didn't get me as much as Kubo. I think my interest in mythology is why I liked Kubo so much, combined with a voice cast that wasn't distracting. A solid animation and a definite contender for the best animated film Oscar.
Florence Foster Jenkins
Returning from the mid year list, this film from Meryl Street and co. remains one of the years best and my favourites. Since the last time I talked about FFJ the leads have all received Golden Globe nominations and rightfully so. Hugh Grant gives, possibly, his best ever performance and having seen the film three times now I can only recommend it more.
Hush
Of all the horror films I saw this year, Hush would probably be my favourite. This is no mean feat with The Conjuring 2, Blair Witch, Don't Breathe and Lights Out all releasing in 2016. Hush has stayed in my list for being everything it's competitors are but with real people and real stakes. There were a bit too many unbelievable and supernatural elements in those films, while Hush was terrifyingly real. Also, I cannot wait to see what the future holds for John Gallagher Jr.
Those are my honorable mentions. I could've made two whole lists of films I liked but getting it to 15 is stressful enough.
So here we go. let's start with
10. Deadpool

Not a surprise it's still here. The funniest film of the year and the most refreshing superhero film since Guardians continues to defy the odds and be wildly successful. Ryan Reynolds has given one of the most popular comic characters in the world an even bigger platform. His performance might be the best in any superhero film since The Dark Knight and rightfully has earned him some nominations already. I've talked about this film enough over the last twelve months so let's keep moving.
9. Sing Street
A surprisingly far fall for my no.2 film in June. Sing Street is still one of the absolute feel good movies of the year but if I imagine it billed against any film 1-8? Sing Street just barely doesn't make the cut. The music is still fantastic, the performances are good for young actors and Lucy Boynton can hopefully make a jump from indies to mainstream off the back of this. I have nothing bad to say about Sing Street. I just preferred 8 films more.
8. Hail, Ceaser!
This scene.
The Coen brothers are back to their comedic best with Hail, Ceaser! An ensemble cast that are all perfect, a script to die for and vignettes of old Hollywood which make film nerds like me very happy. Other scenes I could've put here; 'Lazy old Moon', 'A rabbi a priest and a movie executive' and of course 'No Dames!'
7. The Hateful 8
I don't care that it's 3 hours long. I don't care that some characters are just vessels for Quentin Tarantinos dialogue. For myself and other disciples of QT we just sat in our chairs compelled by people talking in a room, which remains the least cinematic activity known to man. However, I do care that they smashed an incredibly valuable guitar but I digress.
The Hateful 8, for me, bore witness to some of the best dialogue of the year and quite rightfully was up for multiple screenplay nominations. I will repeat my love for the score as it was consistently brilliant with no stand out pieces as they're all great. I was lucky to see this in cinemascope and if you ever see it showing on a big screen then BUY TICKETS IMMEDIATELY.
6. Money Monster
2 George Clooney films. Huh, almost as if he's a good actor. Money Monster retains its place from earlier in the year and for nothing outstanding, it's just really good. It will never win any awards, it probably will be forgotten by the masses either by the end of this year or within the next three but I'm happy I own it on DVD. The only really noteworthy things about it are Jack O'Connells continuing success in Hollywood and Jodie Fosters name above the title. For somebody who's life is so closely tied with modern cinema I love that she is still working and long may it continue. In doing quick research for this list I've discovered that she's directing a future episode of Black Mirror and I'm very excited for that.
5. The Nice Guys
I mean, I'm the only person who saw it apparently. This criminally under seen Shane Black comedy/action/noir/buddy film was one one of many movies that surprised me with how good they were. Not once did I think any aspect should be improved or changed in any way. In terms of casting Shane nailed it again, Ryan Gosling and Russel Crowe played off each other as if they'd been a double act for decades. I am not a big advocator for sequels but I will happily go see as many Nice Guys as Shane Black cares to make.
4. 10 Cloverfield Lane
Dan Trachtenberg has had an incredible year. This film and the best single episode of television in Black Mirrors Playtest. His star can only rise.
Starring John Gallagher Jr (see, bright future), Mary Elisabeth Winstead and the towering John Goodman 10 Cloverfield Lane is still awesome. A year has allowed this film to sink its teeth into more unsuspecting watchers who weren't expecting such a great film.
There is no talk of awards for anyone in the cast which is staggering to me as the entire film rests on these performances. If one is off then the whole movie comes crashing down. Something interesting, did you know that this was nearly directed by Damien Chazelle? He had to drop out after he got the green light for Whiplash. I wonder how different that would've made the film?
3. Arrival
It wasn't long ago I reviewed this film and I still can't stop thinking about it. Everything about this film is so brilliantly done and has cemented Denis Villeneuve as one of the best filmmakers currently working. I'm yet to see a film of his I didn't like and currently is 4/4 with Prisoners, Enemy, Sicario and Arrival.
Can he make it 5 with Blade Runner though? Only time will tell.
2. The Girl With All The Gifts
The best surprise of the year.
I saw no warning, no trailer, no buzz for what (in my mind) could've been the best film of the year. I've tried to be as loud a fan as I could've been about this film as I truly think it's a class above the rest for zombie/infection films.
Apart from the main selling point everything about this film is done to absolute perfection. The set design and locales, the BRILLIANT music by Cristobal Tapia De Veer, the script, cinematography, Colm McCarthy's direction and of course the cast. Sennia Nanua puts in a powerhouse performance, considering she's 12 and this is her first film it's borderline unbelievable. I would say that she is better in this than Jacob Tremblay in Room and that's really saying something from me.
Gemma Arteton, Glenn Close and Paddy Considine also put in top class and layered performances that helped ground the film into something could happen.
This is, for me, the best zombie film I've ever seen and I don't want to wait any longer to see it again. I'm counting the days down to the DVD release.
The way I'm talking about this film might lead you to believe that it should be number one. However we all know what I'm putting there.
1. La La Land
I wasn't even pretending that there was any other choice. Damien Chazelles musical is everything great about old Hollywood with the addition of modern camerawork and sound mixing. Ryan Gosling rounds off his stellar year while Emma Stone makes a claim to be one of the most exciting actresses currently working. I heard someone describe their partnership as when you put some mentos in a bottle of coke, it really does explode into a sea of energy and life.
It's been out in the US for nearly a month and finally releases in the UK in 8 days (I saw it at a festival in October) so I can finally see it again. I fiercely believe this film to be a masterpiece and that's why it's my film of the year.
So there we go. Another year done and another to look forward to.
There are a number of films that could be in next years list. Blade Runner, Guardians 2, Star Wars and the indies haven't surfaced yet! 2017 looks to be very interesting and with that I bid you adieu.