Last month, I brought some Mario games to light that many people would never have known to exist. With this column, however, the ol' plumber boy won't be alone! Sonic the Hedgehog, SEGA's own cash cow franchise, has quite a number of skeletons in his closet as well. And I don't mean that game from 2006. I mean games that not many people know about, of course. This is as obscure as things could possibly get for the Blue Blur.
Hello, reader. My name is Ryan Silberman, and this is my tenth Top 5 list!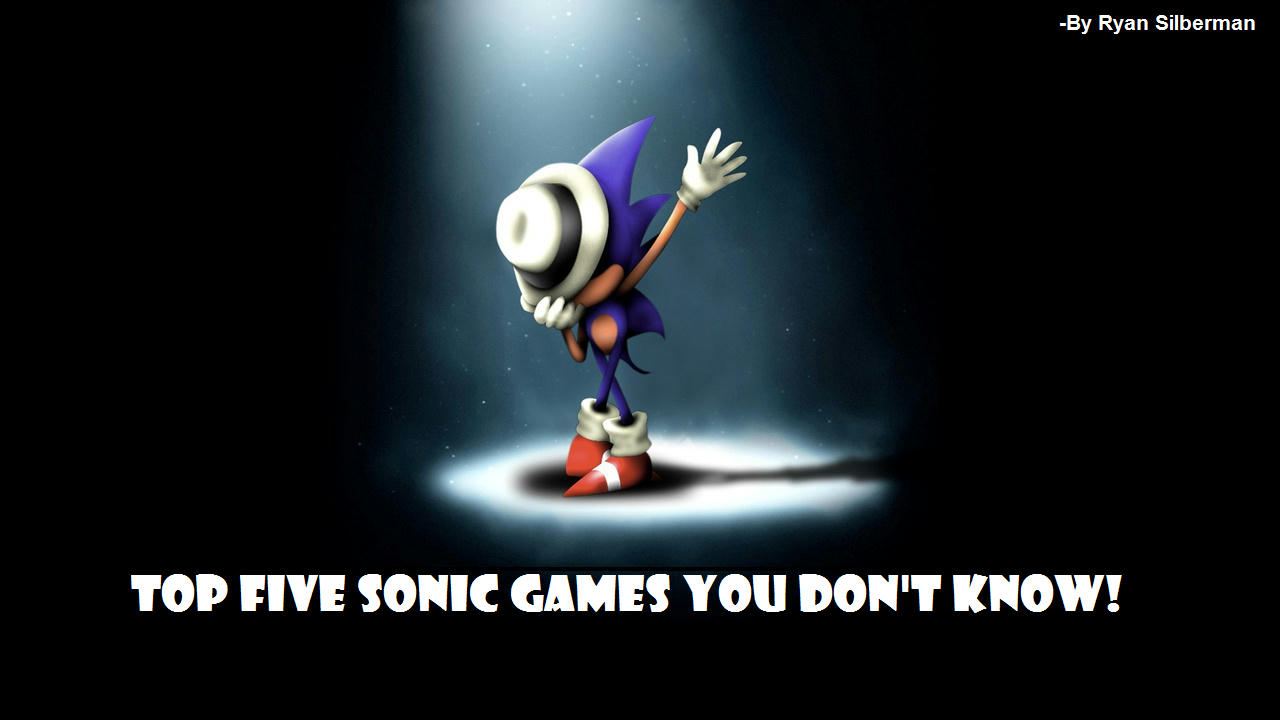 #5 – Sonic at the Olympic Winter Games
No, that's not a typo. There have been instances of Sonic going to the Olympics without his newly found buddy, Mario. The first time this has occurred was the mobile phone release of Sonic at the Olympic Games. It does make some sort of sense, given that Nintendo likely wouldn't want Mario and friends to appear on non-Nintendo platforms. Obviously, Sonic at the Olympic Winter Games is the successor to that game. It was released on iOS devices in 2010, around the same time as Mario & Sonic at the Olympic Winter Games.
If you're familiar with the Mario & Sonic Olympics series, you know how this plays out. It's a minigame collection themed after Winter Olympics events, and hardware gimmicks are utilized for the controls of each one. Here's the kicker, though: The game got removed from the App Store just a few months after release! It's unknown as to why that may be, as neither SEGA nor Apple have commented on the matter. They practically pretended the game didn't even exist. Perhaps if they did keep it on the store, it wouldn't have ended up being such an obscure find nowadays.
#4 – Sonic the Hedgehog Level Creator
Yep. The Sonic the Hedgehog series did have a level-designing game at one point. In fact, it predates Super Mario Maker by about four years! The big difference is that it wasn't released as a retail title. It was actually released as an activity game on the PlaySEGA website. Players could play levels made by other users on the website, but VIP members of the site were able to create some of their own. Surprisingly, the core gameplay is like that of the SEGA Genesis Sonic titles (albeit rather primitive being that this is a Flash game)!
Unfortunately, Sonic the Hedgehog Level Creator met a similar fate to that of Sonic and the Olympic Winter Games. A few years after release, the entire PlaySEGA website was put under "maintenance", and it's stayed like that ever since! Heck, even when the site was active, (from my experience, anyway) the game was a struggle to get loading properly. Either way, this is another one that faded away into deep obscurity due to those reasons.
#3 – Sonic the Hedgehog (Didj)
Like any big worldwide phenomenon, Sonic the Hedgehog has gone to other genres for better or for worse. This includes the realm of "educational games". The Mario franchise has infamously traveled down this road with the releases of Mario's Time Machine, Mario Teaches Typing, Mario is Missing, and the Mario's Early Years line-up.
Sonic's experience with edutainment has remained relatively quiet in comparison, but the Blue Blur was nevertheless not left out of this; the PC saw the release of Sonic's Schoolhouse, and the edutainment handheld named Leapster hosted a game based on the Sonic X anime. However, there was actually another Leapfrog-branded game console released later. Very awkwardly named the "Didj", it just so happens that it has a Sonic the Hedgehog game of its own.
Since I've never seen a Didj before, let alone played one (But yes, I did actually play Sonic X on a Leapster once), I can't tell how good or bad Sonic the Hedgehog plays. From what this trailer for it dictates, however, it certainly seems to have gotten better treatment than other well-known names would fall victim to. It looks to be closely based on the original SEGA Genesis games but with an emphasis on spelling activities tossed in the mix of platforming. It's not surprising to see educational games fall under the radar due to being aimed at grade schoolers. I will at least say this does look to be kind of intriguing in a positive manner; it's more than I can say for lots of other games in the genre.
#2 – Sonic mobile phone games
Ah, once again the phone games of yesteryear grace a Top 5 list of mine. This time, we'll be talking specifically about the Sonic games on mobile phones. No matter what the popular belief may be, there have been a lot of them! The ports of Sonics 1 & 2 come to mind, as well as possibly the mobile versions of Sonic Unleashed and Sonic Advance, but the hole is even deeper than that! Sonic at the Olympic Games has Sonic and co. participate in Olympic sports without Mario. There are Sonic golfing games; two where they play out like traditional golf, and another that plays on a two-dimensional plane and themes its courses after levels from the original Sonic the Hedgehog.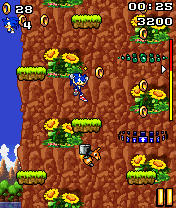 But that's not all! There's a whole subscription service in Japan called Sonic Cafe where paying a fee per month grants you access to over thirty-seven exclusive games. Sonic Billiards, Sonic Bowling, Sonic Kart 3D X, Sonic's Casino Poker, Sonic Hearts, Sonic's Mine Sweeper, HOLY CRAP THERE'S SO MANY OF THEM! Yet, how many people are even aware of their existence? Probably enough in Japan for SEGA to create a few sequels to some of the games, but I can't imagine who else.
#1 – Sonic Adventure (Tiger handheld)
The creme of the crop simply has to be this one.
Now, Tiger was never a stranger to making Sonic games. Ever since the beginning of the franchise, the company would release tie-in electronic LCD games themed after whatever Sonic title was new at the time. There were LCD versions of Sonic 2, Sonic 3D Blast, Sonic R, and even one dedicated to the Sonic Underground cartoon series. Heck, Tiger even created a version of Sonic Jam for their own handheld console, the game.com. Many of us Sonic fans know how THAT one turned out…shudder shudder…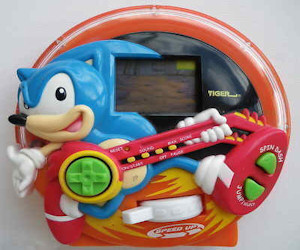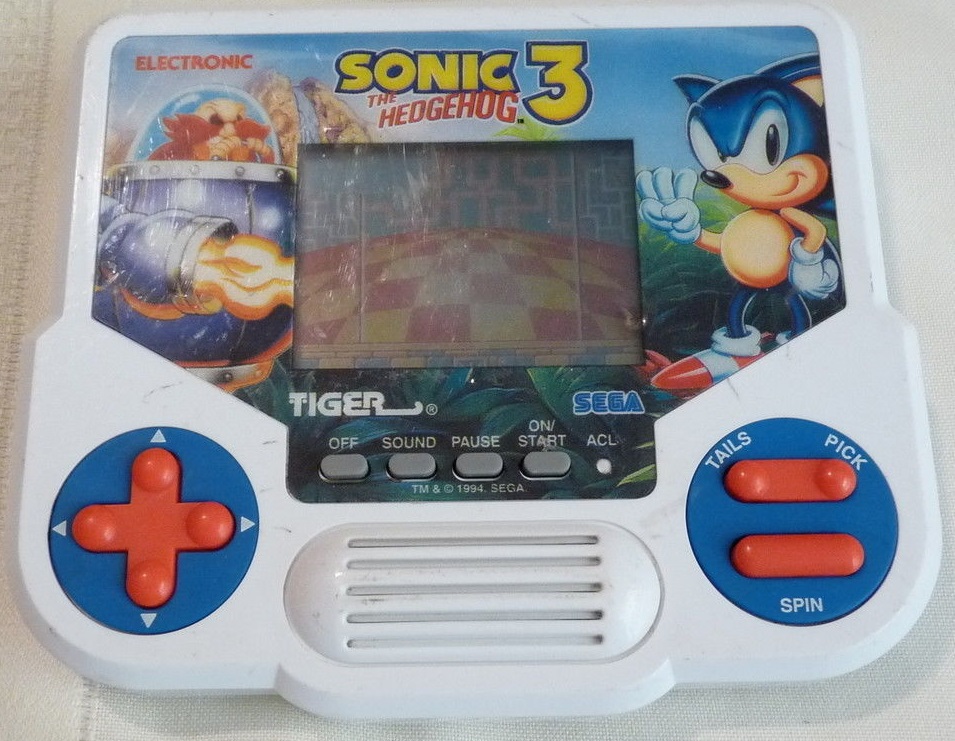 But believe it or not, they made a game to tie-in with the release of the Dreamcast posterboy, Sonic Adventure. Unlike all their previous entries, Sonic Adventure was a full-on actual video game! The graphics had legit movement to them and weren't made in Game & Watch-esque static images. Complementing this revolution was the sound design, which was authentic and remained faithful to the real deal. It was arguably Tiger's finest piece of work in their Sonic lineup. Good luck finding it on eBay, though.
Not only is Sonic Adventure quite the spectacle, but it is also incredibly hard to find this day and age. Whereas Tiger's other Sonic games are as common as dirt, Sonic Adventure is as rare to come by as Halley's Comet. It could most likely be because the marketplace hasn't been kind to these sorts of things at that point in time. As such, no one bought them nearly as much as they had the decade prior. Does anyone have one of these, by the way? I totally want one. I will pay whatever is necessary. Pretty please…?