I hope everyone had a great Mario day yesterday! I'm not quite done with the mustachioed follow's franchise, though. Instead, I want to have a look at some of the stranger things that could be found in some of the games featuring the plumber hero. There are a lot of secrets to behold in many outings in Mario's history, but which ones come to mind as some of the weirdest?  Keep in mind, we aren't looking for the deepest hidden ones out there; just secrets that seem weird to think about in their own right!
Hello, reader. My name is Ryan Silberman, and this is my eleventh Top 5 list!
#5 – The elevator (Super Mario Land)
Super Mario Land is one of the odder entries in the series just for how different its establishments are in comparison to the usual Mario game scenario. Where else can you find the guy rescue Princess NOT-Peach from an alien in a stereotypical Egyptian-like kingdom while stomping living stone heads and turtles with bombs for shells? The weirdness doesn't stop there, though. Despite that there is no warp zone like in Super Mario Bros., Super Mario Land does feature a hidden way to allow the player to reach the top of underground ceilings.
If the player bops his or her head on very specifically hidden question blocks, out will pop some weird little platform thing. Upon standing on it, it will rise and take Mario through the frickin' ceiling! How the elevator even does that is beyond my knowledge. Never does it make a sound nor does Mario get affected by the solid rock above him. It just…happens! Creepy!
#4 – Luigi steals Mario's spot by putting his life at risk (Super Smash Bros. Melee)
While it is as beloved as it could possibly get (especially by the fighting game community), Super Smash Bros. Melee houses a plethora of weird little things; to count all of those would be an entire book by itself! So let's focus on one for now. The moment in question can easily be discovered at the beginning of the game's Adventure mode. Normally, if one were to play through the beginning of it, the first stage would end with a fight against Mario and Peach on top of her castle. But let's say for some reason, you happen to have cleared the part before the fight with a time limit that has a "2" in its "seconds" digit. In this alternate reality, we get to watch this happen:
Completely out of nowhere, with no other context than what was shown onscreen, is a short cutscene depicting Mario's dethroning/possible demise. Poor Mario was trying so hard to make it to the top of the castle to help fight with his lady friend when suddenly his needy brother screws him straight over. Dude! Luigi! You made your brother fall into the water! He probably took an extremely rough fall and broke an ankle or something! Go help him, for everybody's sake. You know better than this, Luigi.
#3 – Suddenly warping to another world (Super Mario Bros. 2)
I know I just mentioned warp zones when I was talking about Super Mario Land's kooky elevator, but let's focus on them a little more. Super Mario Bros. was the first to bring warp zones into the public eye, and given the game's success, the warp zone is one of the most popular secrets in the gaming industry. It was also easily accessible; all you had to do was run across an underground ceiling and you'd come across a row of pipes dedicated to bringing Mario someplace farther. It was simple and easy to understand, but fun to discover.
Super Mario Bros. 2, being completely different from the original and all, has its own way of perceiving a warp zone. The world of Subcon has this sort of negative dark side that's accessible by throwing a potion on the ground to create a gateway to it. Normally, this is used so players could find coins to collect or even a mushroom to gain an extra hit point. But let's say you decide to try to play around with one of those weird tubes sticking out from the ground. If you just so happen to find a tube in the middle of nowhere, use the potion, and manage to successfully squeeze down into it, you're suddenly given this blank screen.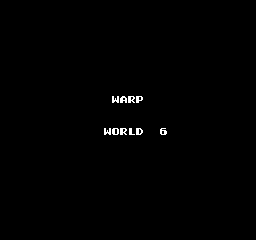 What?! How?! When?! Where?! Who is supposed to know about this? There are only several tubes in the entire game that could serve as warp zones and there's never an indication that one would ever be near one! There also isn't a choice at all regarding what world the player would travel to. The player just apparently finds him/herself in another world all because of extreme curiosity (or maybe people could just look it up online).
#2 – Kicked out of the castle (Super Mario 64)
Being one of the first tried-and-true 3D platformers around, Super Mario 64 has a lot of fascinating oddities within its very presence. There's an abstract genius to its general design, and bits and pieces of it can be seen throughout playing the title. From discovering the teleporters in places like Bob-Omb Battlefield to crawling into an isolated igloo for an ice maze in Snowman's Land, so much of it is played around without much context, but players typically don't ever feel the need to think about it.
And then there's Dire Dire Docks. Halfway into the level, there's this ginormous hole in an underwater wall that leads to what appears to be pure blackness. With all the interesting stuff that players have grown accustomed to by now, one would think that there's probably some sort of new smaller area that could be found when going through the hole or something. Or maybe it could just be lead to an invisible wall and not mean anything. The answer? It's neither.
Yep! The game just spits the player back out to outside of Peach's Castle with no fanfare. The pure randomness of a level taking a player out of an objective like that is why this is on the list. Dire Dire Docks and the area where the metal cap can be unlocked are the only two levels in the entire game that are able to kick Mario out like that! That is just mean and unexpected. Even then, the metal cap area can be a little justified since it features a river that pushes Mario to outside the level's boundaries. What was the purpose of ever including this hole in DDD??
#1 – Deep Dark Galaxy gets deeper and darker with cheats (Super Mario Galaxy)
So, I'm going to cheat (literally) by including secrets that aren't really possible to see without something to aid exploits outside where the game demands the player be. In this case, Super Mario Galaxy could only ever be seen as beautifully crafted and masterfully executed when normally playing the game. When venturing outward…it still looks beautifully crafted and masterfully executed! Well, maybe except for if the player plays in the level, Deep Dark Galaxy, with its purple coin mission selected.
Allow me to explain: In the mission, the player is stuck in the cave to find purple coins. Breaking the boundaries to go outside the cave and onto the beach, however, allows us to see some very weird stuff. Apparently, the Toad Brigade is in two places at once, as they are both in the cave and on the beach. However, the beach's TB suffers from an identity crisis. Captain Toad says what Green Toad would say in the cave, and other Toads would blurt empty dialogue boxes – other than the purple one. The green Toad dances by a series of poles, with an electric Amp present. But it doesn't just stop there; the yellow Toad is standing on a cannon that isn't usually in this level at all, and there's a pipe that instantly leads to the "Boo in the Box" area. Oh, and the blue Toad, who wears glasses in this game, is lacking them for some reason. And he's floating in the air. I think we're done here.