Another Wii U game has been bestowed upon 3DS owners in the guise of Yoshi's Woolly World. Unlike the previous Wii U conversion, Yoshi's starring role has everything intact except local multiplayer (which is admittedly kind of odd since New Super Mario Bros. 2 handled that just fine). It makes up for this by featuring brand new content with Yoshi's adorable dog sidekick Poochy and stop-motion animations that are guaranteed to melt some players' hearts. Considering the Wii U is beyond the prowess of an Xbox 360/Playstation 3 and the 3DS isn't exactly up to par with Gamecube standards, just seeing Yoshi's Woolly World exist as is on the platform is a solid achievement on Nintendo's and Good Feel's part.
Story
Kamek has turned Yoshis into yarn and has spread them across the land. Go get 'em, Yoshi!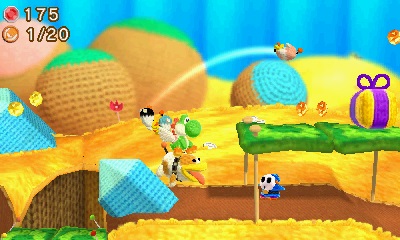 Graphics
On that note, this game still looks lush and yarn-y. Nothing feels remotely devoid of soul. In fact, since this is Yoshi we're talking about, I could only imagine people smiling and gasping in awe when looking at the screen; much like Kirby's Epic Yarn before it, re-modeling an already adorable critter with yarn equates to a cuteness overload! Adding to this in this 3DS port of Yoshi's Woolly World are the thirty-one stop-motion shorts (albeit one has to be unlocked every 24 hours…) that simply must be seen and appreciated. Massive props to the people that worked on those, and massive props to the developers for squeezing as much eye candy from the Wii U title onto this 3DS cartridge as possible. The only downside is that experiencing the game in 60 frames per second could only be possible on "New 3DS" models while standard 3DS ones have it run at 30. Still, it's far from something to lose sleep over.
Audio
This category leaves me very conflicted. Why? Well, throughout my time with Yoshi's Woolly World, I have often associated its content with that of Yoshi's Island. As much as I wanted to wait until discussing the gameplay to elaborate on that, this is why I found myself underwhelmed with the musical score. If this is going to be like Yoshi's Island, I expect the music to match with the energy of the game. Sequels to Yoshi's Island have had a lousy track record on that aspect, and Yoshi's Woolly World is…not an exception to the rule. To its credit, it has pieces that are listenable and probably even a bit catchy on their own merits. I suppose in some ways, it at least fares fine against, say, Yoshi's Story's OST (which was decent at best). However, the general tone of the music is way too laid back and relaxed, clashing with the gameplay's pace as a result. This especially applies to the "main theme" which would've given me traumatic Yoshi's New Island flashbacks had it been composed with kazoos.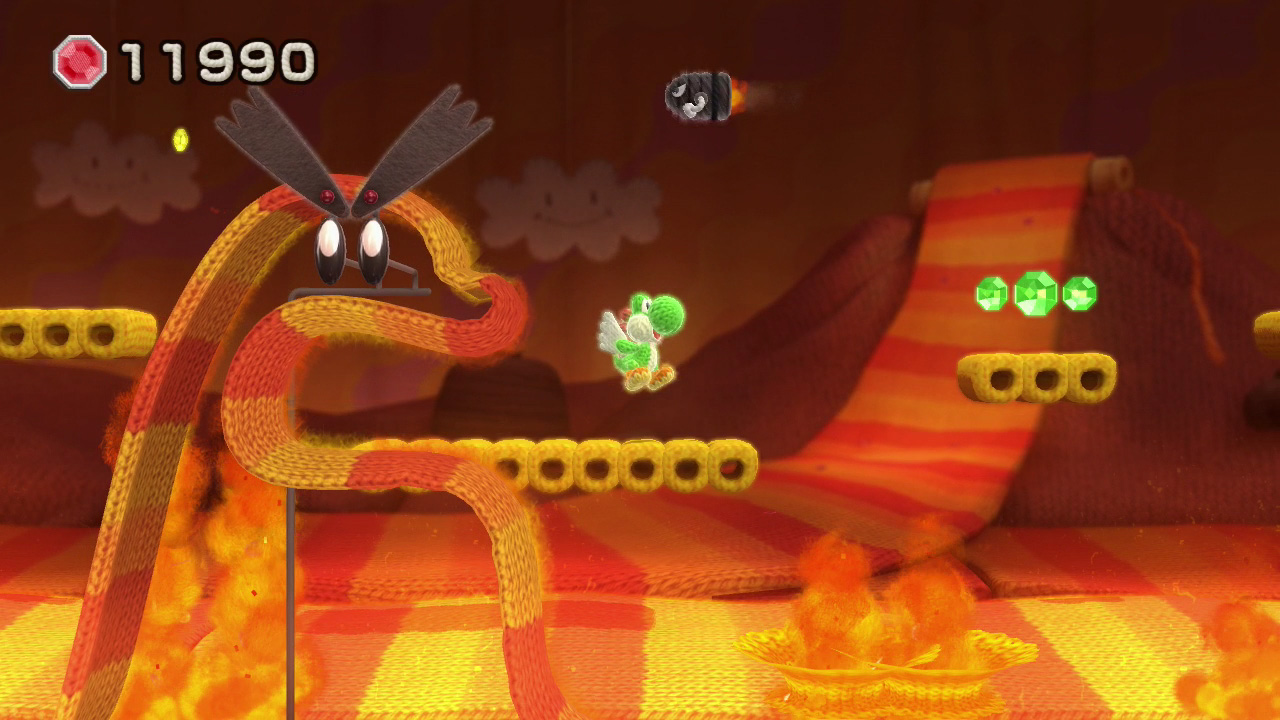 Gameplay
Love Yoshi's Island? Great! Yoshi's Woolly World is pretty much Yoshi's Island coated in yarn! As the green bundle of joy himself, you go on a platforming quest across six worlds. There's no Baby Mario to be found (so you won't have to plug your ears anymore), but the aim of the game will still have veterans at home. Although Yoshi can run and jump like his princess-rescuing plumber friend, he also packs a useful flutter to aid said jump, and he's capable of eating enemies to turn them into eggs yarn balls. Yarn balls could be used to throw at other enemies or objects that unravel goodies or pathways. This has proved to be a winning formula since the Super NES classic, and Yoshi's Wolly World proudly keeps the tradition going. Almost to a tee, really.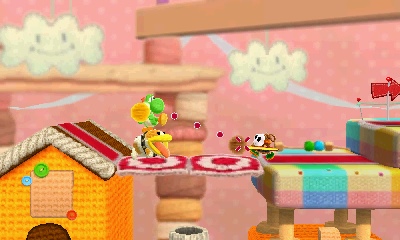 If you've played Yoshi's Island, you'll see a lot of the same elements take place. Enemies include Shy Guys, monkeys, fish that fire streams of water, and anything else present in that game. Platforming elements are as familiar; there are slopes and falling platforms as well as the weird yellow mush that acts like ground until eggs yarn balls are thrown at it. In a nutshell, the only mechanical differences between Woolly World and Island are that Yoshi has a health meter and that, instead of coins, there is a currency for buying Power Badges (think an in-game shop containing upgrades). There's also a "Mellow" mode for – let's be real here – people that suck. I don't bother with it because I am hardcore and can take on whatever challenge the game throws at me! The challenge is mostly kept moderate, but there are actually a few moments sprinkled in where I have died more often than I'd want to admit.
While on the subject of levels, I can definitely say despite the lack of new elements to play along with what's already established from Yoshi's Island, the level designs themselves do take a solid advantage of what is there. Some strokes of design genius even show up when levels get either really clever or demonstrate things that haven't been done in previous installments of the series. I also like the unlockable fast-paced levels where you get to play as Poochy; they convey addictive arcade-like vibes thanks to the simple yet replayable designs that come out of the experience. Really, my issue with this is that I wish there was more miscellaneous content out of the game in general. There are times where the game may come off as a 22-year late expansion pack. Okay, that sounded much harsher than I intended.
Verdict
It is a good thing Yoshi's Woolly World carries those things because Yoshi's Island is a fantastic game. There are worse crimes to commit in the gaming space than a title wanting to be like the better game. It is still worthy of your time for how it utilizes the given elements. Should it have featured more new things in its general design? Absolutely. Is it garbage for acting too much like its predecessor? Not at all. I enjoyed what's here anyway – except most of the music, anyway. It's certainly a better game than Yoshi's New Island, which was more like a subtraction from the SNES original rather than an expansion. I like to think of Woolly World's 3DS release as an apology for it. The bonus content in the package helps add to the value. If you love Yoshi's Island or wish to play a game like it, Yoshi's Woolly World will provide a filling that the former game's other successors don't often contain. Hopefully there could be some more ambitious things to come if a sequel decides to materialize, though.
Or if Good Feel could make a new Wario Land or port Wario Land: Shake It to 3DS, I would be all over that!
The reviewer bought this game.